"The collaborative platform that NEEP has built over the past 20 years has truly enhanced the work of all the partners in the industry. If NEEP didn't already exist, we'd need to create it."
- Stephen Cowell, President E4TheFuture and founding board member of NEEP
Our Mission & Vision
NEEP was founded in 1996 as a non-profit accelerating energy efficiency in the Northeast and Mid-Atlantic states. Today, it is one of six Regional Energy Efficiency Organizations (REEOs) funded, in part, by US Department of Energy to support state efficiency policies and programs.
Vision: We envision the region's homes, buildings, and communities transformed into efficient, affordable, low-carbon, resilient places to live, work, and play.
Mission: We seek to accelerate regional collaboration to promote advanced energy efficiency and related solutions in homes, buildings, industry, and communities.
Goal: Assist the Northeast and Mid-Atlantic region to reduce building sector energy consumption at least three percent per year and carbon emission at least 40 percent by 2030 (relative to 2001).
Our strategies are:
Advance Regional Market Transformation Opportunities
Provide Independent Analysis and Technical Expertise
Advance Knowledge and Best Practices
Engage and Empower Stakeholders
Maintain a Strong, Nimble, and Responsive Organization
Our approach is to drive market transformation regionally by fostering collaboration and innovation, developing tools, and disseminating knowledge. We do this by:
• Digging deep in policy and technology to provide authoritative papers, presentations, and persistent leadership.
• Developing strategic partnerships to cultivate and advance critical work.
• Developing leadership to demonstrate the possible.
• Driving change through efficiency as a core strategy.
• Focusing on market transformation as a cycle of change.
• Working openly to create learning opportunities and trust
"NEEP and other early regional energy efficiency organizations were formed when it became clear that strategic multi-state collaboration among energy efficiency actors was needed to effectively advance efficiency and transform markets for the long term."
- Sue Coakley, NEEP Founder and Former Executive Director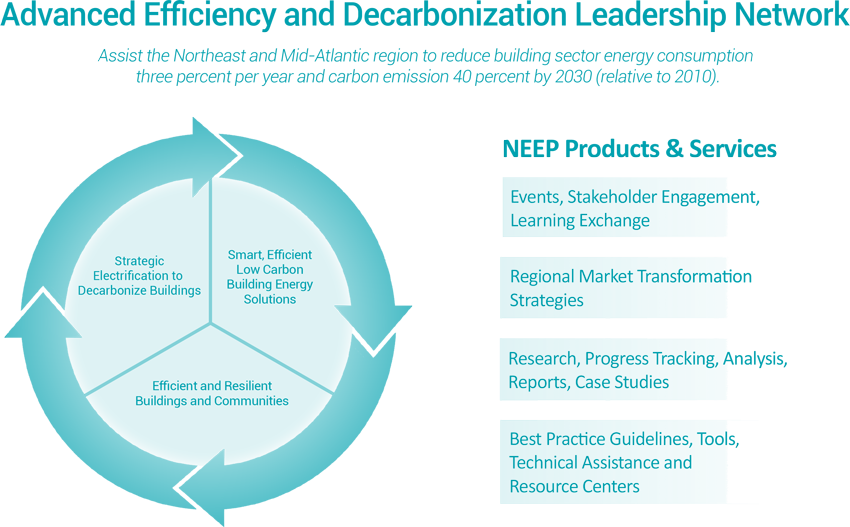 "One of the things Connecticut finds really important about NEEP is that it brings a small state like us together with other states in the region."
- Diane Duva, Director of the Office of Energy Demand with Connecticut's Department of Energy and Environmental Protection