In today's world, we are more connected than ever. Advanced technologies and software tools are developed daily. Despite this advancement, homeowners find themselves uninformed about how much energy they're using and, more importantly, how much can be saved. Empowering homeowners through energy modeling tools can provide a more holistic view of home energy use, which can influence their home's efficiency through recommended measures and improvements.
Energy Estimator – Powered by HELIX & ClearlyEnergy can provide a scalable solution for homeowners to make more informed decisions about the full costs of operating homes. It can motivate investments that lower energy bills, reduce carbon emissions, expand job growth, and increase overall comfort.
What is Energy Estimator?
In 2019, NEEP and ClearlyEnergy developed a companion tool to HELIX called, Energy Estimator – Powered by HELIX & ClearlyEnergy. Energy Estimator is an automated energy modeling (AEM) tool that evolved from HELIX, which stores home energy labels, certifications, and solar PV data to supplement information from publicly-available tax assessor databases. The tool also produces a breakdown of annual energy costs in which homeowners or energy professionals can refine cost estimates with utility bill data and information about in-home assets via a virtual audit. Energy Estimator generates a customizable home energy label to which homeowners and HELIX subscribers have access.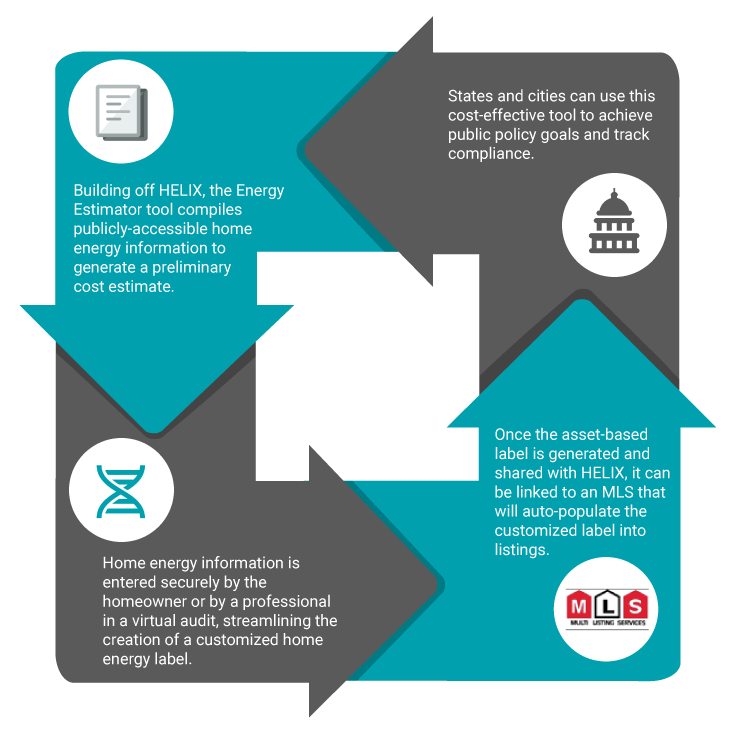 Benefits
Support Energy Labeling Efforts: States and communities can utilize the tool to simplify management of residential labeling programs or policies. Once a label is generated, it is sent back to HELIX as a repository to store and populate into MLS listings to better market and value homes during the real estate process. States, communities, and utilities who subscribe to HELIX can track compliance
Identify Retrofit and Upgrade Candidates: Energy Estimator provides cost-effective, online screenings of homes to identify candidates for in-home audits, weatherization, HVAC, or appliance and lighting upgrades. In conjunction with HELIX, energy professionals can track energy upgrades of a home. The tool also breaks down estimated savings from solar PV, electric heat pumps, and other retrofit programs.
Advance Real Estate Programs: Energy efficiency mortgages are the most cost-effective way of retrofitting homes. Energy Estimator effectively screens homes to identify green mortgage candidates and uses the HELIX database to produce supporting documents (i.e. Green Addendum).
Support Virtual Audits: Energy Estimator can be used to perform virtual audits by allowing energy professionals to work with homeowners to collect home system information and/or bill information. Energy professionals can review audited homes, share customized energy reports with homeowners, and proceed to contracting. Since this allows for lower costs and reduced on-site time compared to traditional on-site audits, contractors can work with a greater number of homes and build a larger pipeline of projects.
Energy Estimator in Action
In efforts to upgrade the energy performance of Montpelier's building stock and achieve its net-zero carbon goals, the Vermont capital will implement the Montpelier Energy Disclosure Ordinance to regulate and enforce energy efficiency disclosure requirements.
As a result, Montpelier sellers and selling agents must provide a Vermont Home Energy Profile (VHEP), a home energy label based on the Energy Estimator – Powered by HELIX & ClearlyEnergy. Montpelier can use HELIX to auto-populate home energy information to its local Multiple Listing Service (MLS) – the New England Real Estate Network (NEREN) – where HELIX is currently integrated. Data entered into the Energy Estimator tool will populate the VHEP and be available in both the tool and HELIX. In turn, Montpelier city staff will have access to HELIX to manage ordinance implementation by tracking compliance, running reports, issuing enforcement letters, and analyzing the energy performance of Montpelier homes.
Additional Resources: