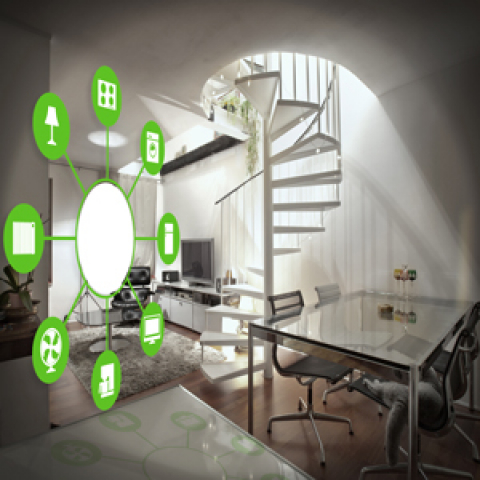 Click here to go to HEMS Product List
New: Claiming Savings from Smart Thermostats: Guidance Document, The Smart Energy Home and Cross-Promotional Opportunities in Energy Efficiency, The Smart Home Interface: A Tool for Comprehensive Residential Energy Efficiency, The Contractors Guide to the Smart Home
As residential energy use changes towards strategic electrification and integration of distributed energy resources (DERs), a dynamic, efficient, and high performing home becomes a priority. Enter the Smart Energy Home, one that optimizes energy use to save energy, drive efficiency retrofits in the home, can interact dynamically with the grid, and can manage new DERs as they come online.
Born out of the 2013 Regional Business and Consumer Electronics Strategy Report, the subject of Home Energy Management Systems (HEMS) has been a NEEP initiative since 2014. NEEP and our partners at the Home Performance Coalition have lead a working group that bring together leaders from efficiency programs, hardware and software industry, researchers, program implementers, and government to share priorities and activities on HEMS. HEMS presents consumers with the opportunity to manage a myriad of systems in their homes including electronics, lighting, smart appliances and thermostats/HVAC. The energy savings potential from home management is significant and NEEP is working to align this burgeoning technology with energy efficiency and regional carbon reduction goals to capture the potential of these devices.
NEEP's research in this space has spanned in-depth level setting documents, such as our 2015 Opportunities report and our 2016 Strategies report, to shorter briefs and guidance documents including Claiming Savings from Smart Thermostats: Guidance Document, The Smart Energy Home and Cross-Promotional Opportunities in Energy Efficiency, The Smart Home Interface: A Tool for Comprehensive Residential Energy Efficiency, and The Contractors Guide to the Smart Home. Future research efforts include aligning HEMS with the carbon-reduction residential strategies including DERs and Strategic Electrification.
Smart Technology Product listing
As part of the 2015 Opportunities Report, NEEP reviewed and updated inventories of HEMS technology from existing resources including a comprehensive list as part of the PG&E HEMS Market Characterization, while expanding the inventory lists and providing costs and potential linkages where appropriate. The inventory chart below is the technology assessment from the NEEP HEMS Research Report with additions from web-scraping and a 2016-2017 PG&E HEMS Report. DISCLAIMER: NEEP does not take responsibility for the products listed here or for the accuracy of the information presented.
Thank you to our 2019 project funders: