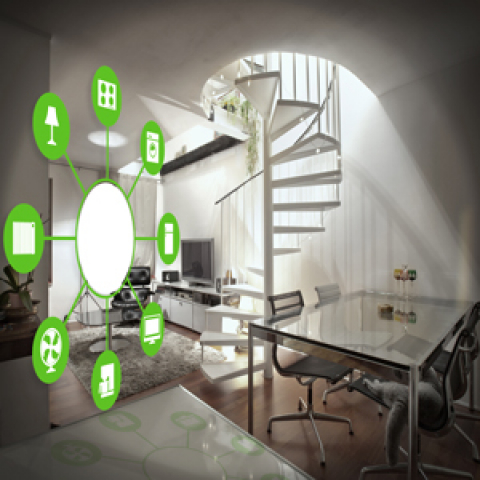 NEEP's Smart Energy Homes and Buildings initiative supports the Northeast and Mid-Atlantic region's commitment to deep carbon reductions and NEEP's goal of assisting our region to reduce building sector energy consumption three percent per year and carbon emissions 40 percent by 2030 (relative to 2001). By encouraging the use of smart energy home and building technologies, and the integration of decarbonized distributed energy resources (DERs) and strategically-electrified technologies, such as air-source heat pumps (ASHPs) and heat pump water heaters, we hope to drive the region towards higher levels of building decarbonization. NEEP's definition of Smart Energy Homes and Buildings is very much in alignment with U.S. DOE's definition of Grid Interactive Efficient Buildings (GEBs).
Smart Energy Homes and Buildings
Smart homes use internet-connected devices to enable remote monitoring and management of appliances and systems, such as temperature, lighting, and security cameras. Smart energy homes take a step beyond the gadget-filled smart home to focus on bringing smart functionality to major household energy-using systems like HVAC, water heating, and plug loads (including appliances and electronics).
Smart buildings include commercial, industrial, and residential buildings of all shapes and sizes - including offices, skyscrapers, apartment buildings, and multi-tenant offices and residences. Many of the same smart technologies used in smart homes are deployed in smart buildings, including lighting, energy, heating and air conditioning, and security and building access systems. Similar to the smart energy home, the smart energy building focuses on bringing smart functionality to major energy-using building systems.
Working Groups
HEMS Working Group
Born out of the 2013 Regional Business and Consumer Electronics Strategy Report, the subject of Home Energy Management Systems (HEMS) has been a NEEP initiative since 2014. As part of that initiative, NEEP partners with the Building Performance Association host a quarterly HEMS working group that brings together leaders from efficiency programs, hardware and software industry, researchers, program implementers, and government to share priorities and activities on HEMS. HEMS presents consumers with the opportunity to manage myriad systems in their homes, including electronics, lighting, smart appliances, and thermostats/HVAC.
Smart Energy Buildings Working Group
In 2020, NEEP expanded the scope of our smart energy work into the commercial space with the launch of our Smart Energy Buildings Working Group. This working group focuses on current and developing smart energy building technologies and commercial markets, and convenes quarterly. More specifically, the purpose of this working group is to:
Develop and advance long-term regional market transformation strategies to speed the market introduction and adoption of smart energy building technologies that facilitate building decarbonization
Advance the findings of NEEP's

Grid Interactive Efficient Buildings report

that pertain to the Northeast and commercial buildings
Grid Interactive Efficient Buildings
In 2019, the U.S. Department of Energy's Building Technologies Office (BTO) introduced the concept of Grid Interactive Efficient Buildings (GEBs) – a concept that envisions a future in which buildings operate dynamically with the grid to make electricity more affordable and integrate distributed energy resources while meeting the needs of building occupants. Buildings are considered GEBs if they are energy efficient, connected, smart, and flexible.
Funded by BTO, NEEP teamed with the Midwest Energy Efficiency Alliance (MEEA) and the Southwest Energy Efficiency Project (SWEEP), to work on a project to capture the advancement of GEBs in the Northeast, Midwest, and Southwest regions of the U.S. The project resulted in a report: Grid Interactive Efficient Buildings Tri-Region Status Report that recommends top priority GEBs projects that can meet regional needs going forward (modeling; analytics/data; building management; communications and interconnectivity; standards, procedure and protocol; and EM&V) and identifies key opportunities for regional coordination and/or collaboration on the critical aspects of GEBs-related programs.
List of Resources
The Smart Energy Home: Strategies to Transform the Region
Claiming Savings from Smart Thermostats: Guidance Document
The Smart Energy Home and Cross-Promotional Opportunities in Energy Efficiency
The Smart Home Interface: A Tool for Comprehensive Residential Energy Efficiency  
The Contractors Guide to the Smart Home.
Northeast Regional Assessment of Strategic Electrification
Smart Energy Homes and Buildings Tracking Matrix
The Northeast Smart Energy Homes and Buildings Policy Tracker is intended to track and report on relevant smart energy homes and buildings policies across the Northeast and Mid-Atlantic region.