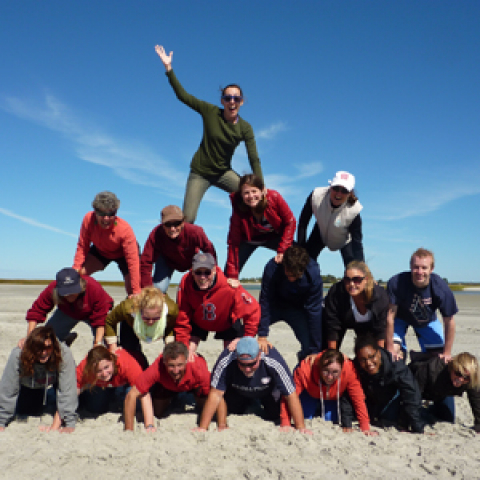 Are you interested in working with government, business, and energy efficiency program administrators to help increase the efficient use of energy in buildings and homes and reduce our carbon footprint? Northeast Energy Efficiency Partnerships (NEEP) seeks the best and the brightest candidates to fill these positions in our dynamic organization.
NEEP is a regional nonprofit organization founded in 1996. Our mission is to promote the efficient use of energy in homes, buildings and industry in the Northeast and Mid-Atlantic States. Our work results in regionally coordinated programs and policies that increase the use of energy efficient products, services and practices. This helps achieve a cleaner environment and a more reliable and affordable energy system.
NEEP is a leader in the regional and national energy efficiency movement by bringing together thought leaders in government, business, and the non-profit world to promote the power of collaboration in moving forward the energy efficiency agenda.
Please see our listed postings below. When responding, email a resume along with a thoughtful cover letter stating where you saw this posting and outlining your interest in NEEP's mission.
Full Time Positions
Make a difference, join the NEEP team and contribute your talents to a mission that matters. Be part of an organization working to help save energy and create a stronger economy, a cleaner environment, and a more reliable energy system. When there are career opportunities at NEEP, they are posted in PDF form, below.
Current open positions
There are no open positions
Intern with NEEP
NEEP seeks qualified candidates passionate about our mission and interested in contributing to a mission-driven, creative, enjoyable, and stimulating workplace. Paid intern positions are available during semester terms (20 hours/week) and the summer (40 hours/week). We are seeking intern assistance for our work in low-carbon building technologies, public policy, efficient energy solutions, resilient homes and buildings, and community solutions. Please read more about the various NEEP initiatives on our website.
All applicants who are eligible to participate in the MassCEC Clean Energy Internship Program are strongly encourage to apply. To participate in the program, students must:
Attend, or have recently graduated within the past year, from a Massachusetts college or university, or
Must be a Massachusetts resident, with proof of residency, who attended an out-of-state college or university, or
Be pursuing a master's degree (Ph.D. candidates are not eligible)
For more information and to apply, visit the MassCEC Clean Energy Internship Program website.
Remote internships may be available. Some field travel may also be possible to enhance the learning experience. NEEP is based in Lexington, Massachusetts. To apply please email a resume, along with a cover letter outlining your interest in NEEP's mission, to interns@neep.org. Be sure to list your name in the subject line. No phone calls please.
Available Intern Positions
---
NEEP is an equal opportunity employer and seeks qualified applicants without regard to race, color, sex, religion, national origin, age, disability, marital status, or sexual orientation.