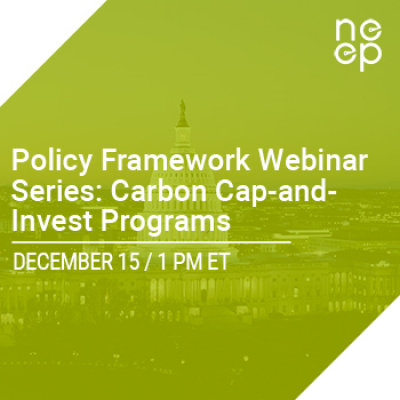 Event Date
Carbon Cap-and-Invest Programs
December 15, 1:00 p.m. EST
As states set climate goals that will require whole sectors of industry to drastically decarbonize, cap-and-invest policies can be a great tool to encourage clean energy market transformation. Yet, without thoughtful policy design, these program can result in disproportionate impacts and exacerbate burdens in underserved communities. Join NEEP for a discussion on what cap-and-invest policies are and how they can be implemented to accelerate decarbonization and lift up underserved communities. Featuring speakers from California, Maine, and Pennsylvania, this webinar will look at how cap-and-invest programs can accelerate decarbonization efforts and how advocates have worked to focus these programs on an equitable transition.
Panelists:
Erin Cosgrove, NEEP
Jack Shapiro, Natural Resources Council of Maine
William Cozzens, POWER Interfaith
Katelyn Roedner, Environmental Defense Fund
The webinar recording is available here.