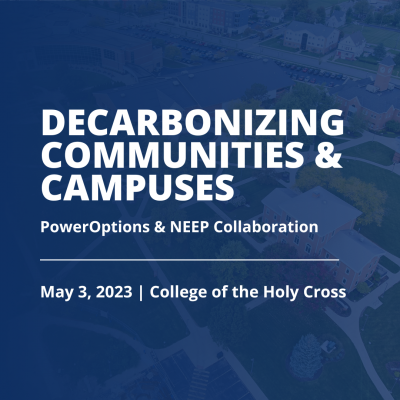 Event Date
Decarbonization has become a priority across every sector, creating new challenges—and also many opportunities. From planning to implementation to stakeholder engagement, there are moving parts that must align for the successful achievement of sustainability goals. And though the Inflation Reduction Act (IRA), recently signed into law, puts a lot of money on the table to help with this transition, navigating the plethora of grant and funding opportunities adds yet another layer of complexity.
Bringing together energy and sustainability people from municipalities, hospitals, universities, housing authorities and other nonprofits, the Decarbonizing Communities & Campuses workshop will provide case studies, pathways, and tangible solutions in a collaborative, interactive format. Network with colleagues, learn what has worked, and where the challenges are while collectively problem solving in segment-specific tracks led by industry experts and peers.
Join us to get inspired and advance your decarbonization goals.
Wednesday, May 3, 2023
9:00 a.m. - 10:00 a.m. - Networking Breakfast
10:00 a.m. - 4:00 p.m. - Program

More details to come.
Registration Details
General
PO & NEEP Membership
$75
$50

PowerOptions and NEEP are committed to creating events and programming that are accessible to all. To uphold our intention to promote diversity, inclusion, and equity in all we do, we've set up a pay what you can (PWYC) option. For more information, please contact Jessica Augat. 
Venue
This workshop is being held at the College of the Holy Cross in the Hogan Center. Recently listed as an environmentally responsible college in The Princeton Review Guide to Green Colleges, Holy Cross offers attendees EV charging stations and is conveniently located by Union Station for travel by train.
Sponsorship Opportunities
We have sponsorship packages available. For more details about partnering with PowerOptions & NEEP, please visit our sponsorship sheet. For additional information, please contact Industry Relations & Event Manager, Jessica Augat.