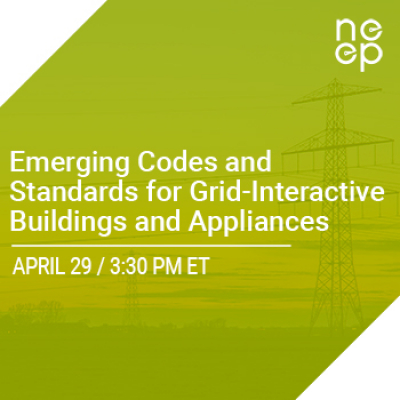 Event Date
As regions across the nation move towards decarbonization technologies and solutions, there is growing recognition that "connected" or grid-interactive equipment in buildings is a critical component of decarbonization strategies. Homes and buildings are becoming increasingly flexible to interact with the grid to meet both grid and customer needs.
This webinar will provide an overview of NEEP's Emerging Codes and Standards for Grid-Interactive Buildings brief, which explores codes, standards, and policies to inform the potential implementation of buildings, equipment, and grid interconnection in the Northeast and Mid-Atlantic region. As regional stakeholders consider policy and programs to assist the proliferation of grid-interactive appliances and buildings, we examine how long-standing models of building energy codes and standards may be replicated or leveraged for purposes of driving grid-interactive homes and buildings.
Following overview remarks by NEEP Senior Manager of Codes and Standards Darren Port, there will be a facilitated panel discussion with industry experts from Johnson Controls Inc., the California Energy Commission, and the United States EPA.
View the recording here.