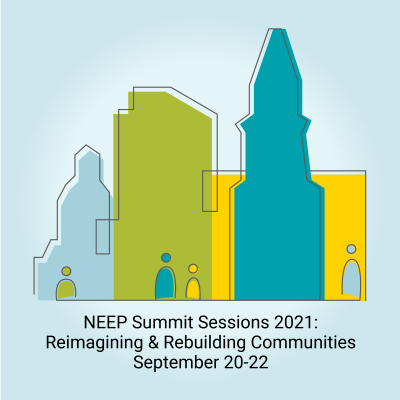 Event Date
-
NEEP Summit Sessions 2021:
Reimagining & Rebuilding Communities
September 20-22
As NEEP celebrates 25 years of partnerships to accelerate building energy efficiency across the region, our Summit Series 2021 will highlight climate stabilization and resiliency, affordability and equity, economic recovery and growth, and public health and wellbeing.
Climate Stabilization and Resiliency – Prepare homes, buildings, and institutions to reduce carbon emissions and provide public safety, protection, and essential services during and following extreme weather, flooding, and other climate-change related hazards.
Affordability and Equity – Engage low-income communities and listen. Support dialogue outcomes that develop and advance affordable low-carbon resilient housing and building solutions with quality local jobs that reduce energy burdens and improve the quality of life for economically disadvantaged populations.
Economic Recovery and Growth – Increase workforce capacities, business opportunities, and local employment to rebuild sustainable, healthy, equitable post-carbon communities across the region. 
Public Health and Wellbeing – Provide greater opportunities for all people to lead healthy lives by improving the condition, comfort, energy efficiency, and air quality of homes, schools, workplaces, and communities.
What to Expect
If you are anything like us, been to a lot of virtual conferences. At NEEP, we've learned a thing or two about ourselves, how we learn, and what keeps us engaged in our virtual world. Here's what we like:
Captivating themes and content
Collective of diverse perspectives
30 to 60 minute sessions
Slides-free presentations
Meaningful conversations
With this format, you can boot up your laptop, stream on your big screen to watch sessions, or lace up your sneakers and listen to sessions on the go. Slide-free presentations offer the flexibility to decide what works best for your day – watch or listen. Whether you are prepping for a meeting, folding laundry, or heading to the office, beach or backyard patio, you can easily tune in to Summit Sessions 2021.
Schedule
Ticket Prices
Standard

Government and Non-Profit

$149
$29

NEEP is committed to creating events and programming that are accessible to all. To uphold our commitment to promote diversity, inclusion, and equity in all we do, we also have a pay what you can (PWYC) option.

For more information, please contact Jessica Augat.
You can view the recording of Day 1 here.
You can view the recording of Day 2 here.
You can view the recording of Day 3 here.