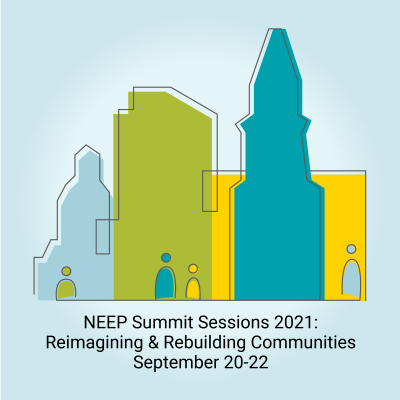 Date Events
-
NEEP Summit Sessions 2021: Reimagining & Rebuilding Communities
September 20-22
As NEEP celebrates 25 years of partnerships to accelerate building energy efficiency across the region, our Summit Series 2021 will highlight climate stabilization and resiliency, affordability and equity, economic recovery and growth, and public health and wellbeing.
Climate Stabilization and Resiliency – Prepare homes, buildings, and institutions to reduce carbon emissions and provide public safety, protection, and essential services during and following extreme weather, flooding, and other climate-change related hazards.
Affordability and Equity – Engage low-income communities and listen. Support dialogue outcomes that develop and advance affordable low-carbon resilient housing and building solutions with quality local jobs that reduce energy burdens and improve the quality of life for economically disadvantaged populations.
Economic Recovery and Growth – Increase workforce capacities, business opportunities, and local employment to rebuild sustainable, healthy, equitable post-carbon communities across the region. 
Public Health and Wellbeing – Provide greater opportunities for all people to lead healthy lives by improving the condition, comfort, energy efficiency, and air quality of homes, schools, workplaces, and communities.
Gold Sponsors
Gold Sponsor
Connecticut State Partners
For information about sponsorship opportunities, please contact Industry Relations & Event Manager Jessica Augat.