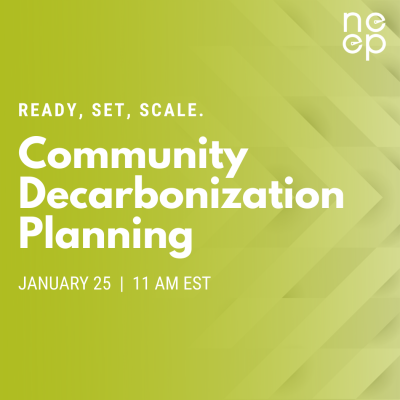 Event Date
Ready, Set, Scale. A NEEP Series: Community Decarbonization Planning
January 25 | 11 AM EST
The Ready, Set, Scale. webinar series focuses on the mechanisms key to rapid, equitable decarbonization of the regional commercial and residential buildings sector. This series will examine strong policies and regulations to address building emissions, market transformation for electric space and water heating, community-led solutions, and replicable program and business models for low-carbon retrofits, all with emphasis on workforce development and equity.
Join us all year long for discussions, analysis, and peer learning around collaborative, multi-state approaches to transform the energy efficiency market. These webinars will provide spaces for diverse industry market actors to come together. January's webinar will be focusing on Community Decarbonization Planning.
When it comes to setting and reaching climate goals, each community is unique. No matter the differences, however, communities must combine real-world building efficiency and decarbonization solutions with a human-centric approach to advance towards an equitable, clean energy future. This involves embarking on a cyclical process to engage stakeholders, consider policy actions, implement solutions, and measure success. Join us to hear from community leaders who will share stories of the roads they've navigated. The webinar will also highlight trends and best practices to scale-up these comprehensive local-level efforts.
Participants:
View the webinar recording on YouTube.