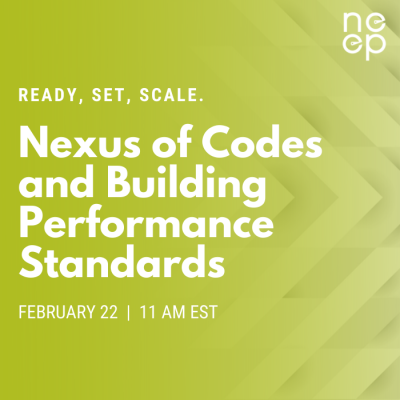 Event Date
Ready, Set, Scale. A NEEP Series:
Nexus of Codes and Building Performance Standards
February 22 | 11 AM EST
The Ready, Set, Scale. webinar series focuses on the mechanisms key to rapid, equitable decarbonization of the regional commercial and residential buildings sector. This series will examine strong policies and regulations to address building emissions, market transformation for electric space and water heating, community-led solutions, and replicable program and business models for low-carbon retrofits, all with emphasis on workforce development and equity.
Join us all year long for discussions, analysis, and peer learning around collaborative, multi-state approaches to transform the energy efficiency market. These webinars will provide spaces for diverse industry market actors to come together. February's webinar will be focusing on Stretch Codes.
Building performance standards (BPS) are an essential tool for municipalities and states to improve energy efficiency and reduce carbon emissions in medium to large existing commercial and multifamily buildings. While jurisdictions focus on BPS, they must also, however, consider how these standards align with building energy codes. Join us as we hear how jurisdictions around the NEEP region are approaching this nexus and addressing the issues of alignment between energy codes and BPS.
Participants:
Washington, DC
David Epley, Associate Director for Data & Benchmarking Division (DOEE)
Katie Bergfeld, Chief, Building Performance & Enforcement Branch (DOEE)
Harry Bergmann, Management and Program Analyst at U.S. Department of Energy (DOE)
Boston, MA
John Dalzell, Sr. Architect for Sustainable Development (BPDA)
View the webinar recording on YouTube.
View March's Ready, Set, Scale. Webinar.