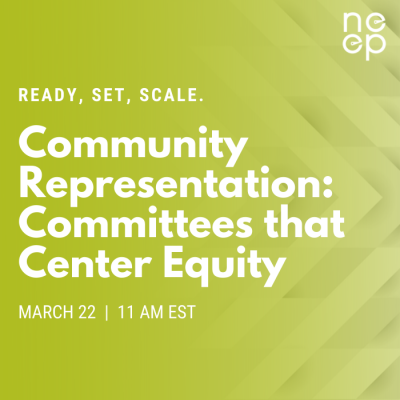 Event Date
Ready, Set, Scale. A NEEP Series:
Community Representation: Committees that Center Equity
March 22 | 11 AM EST
The Ready, Set, Scale. webinar series focuses on the mechanisms key to rapid, equitable decarbonization of the regional commercial and residential buildings sector. This series will examine strong policies and regulations to address building emissions, market transformation for electric space and water heating, community-led solutions, and replicable program and business models for low-carbon retrofits, all with emphasis on workforce development and equity.
Join us all year long for discussions, analysis, and peer learning around collaborative, multi-state approaches to transform the energy efficiency market. These webinars will provide spaces for diverse industry market actors to come together. March's webinar will be focusing on Equity Working Groups.
Recent NEEP research has shown that community and state equity committees are an important near-term strategy for centering energy equity. Equity committees create an avenue for full participation from all community representatives, they support distribution of decision-making power to historically marginalized communities, and they solicit input from those directly impacted by that particular energy landscape. Join us to hear from energy equity leaders at the state and community level. They will share the pathways they have taken to implement procedural, structural, and distributional equity through shared power and decision-making.
Participants:
View the presentation slides.