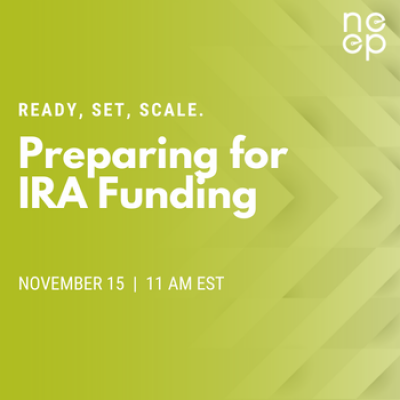 Event Date
Ready, Set, Scale. A NEEP Series.
November 15 | 11 AM EST
The Ready, Set, Scale. webinar series focuses on the mechanisms key to rapid, equitable decarbonization of the regional commercial and residential buildings sector. This series will examine strong policies and regulations to address building emissions, market transformation for electric space and water heating, community-led solutions, and replicable program and business models for low-carbon retrofits, all with emphasis on workforce development and equity.
Join us all year long for discussions, analysis, and peer learning around collaborative, multi-state approaches to transform the energy efficiency market. These webinars will provide spaces for diverse industry market actors to come together.
The Inflation Reduction Act (IRA) represents one of the most significant climate investments ever made in United States history and sets the nation on a path to reduce greenhouse gas emissions 40 percent by 2030. In total, the Act includes $369 billion for climate action and energy security, with $60 billion dedicated to environmental justice communities, specifically for investment in weatherization, electrification, workforce, and code adoption.
Despite this historic investment, many questions still remain – How will these programs be implemented? How can states and other entities be prepared to take advantage of these benefits? What projects can qualify for this new funding?
This webinar is an in-depth discussion on the available funding through the Inflation Reduction Act and what we can do now to prepare for implementation. The webinar will feature experts to discuss and answer any questions on key provisions in the Act, including the Home Owner Managing Energy Savings (HOMES) Rebates and High-Efficiency Electric Home Rebates Act (HEERA).
Moderator:
Participants:
Watch the recording.