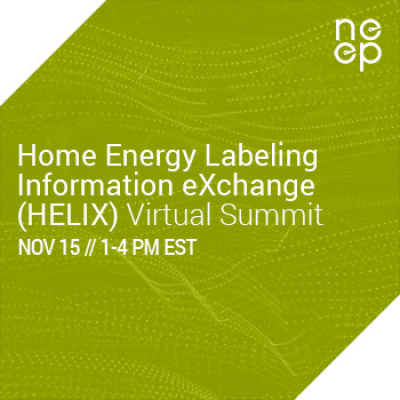 Date Events
Thank you for joining us for the HELIX Virtual Summit. The slides for the HELIX virtual summit can be found here. For more information on HELIX, please see this one pager.
The Home Energy Labeling Information eXchange (HELIX) project is a first of its kind effort to develop a database that, starting in 2018, will be capable of automatically populating real estate listings with asset-based information from verified sources like DOE's Home Energy Score when available and approved by the homeowner. Feedback from impacted stakeholders will be actively solicited and incorporated throughout this project, which focuses on the Northeast region (New England and New York) but aims to provide a replicable, open-source model for use elsewhere.
Agenda
Welcome - Overview of the Summit  
Carolyn Sarno Goldthwaite, NEEP
Samantha Caputo, NEEP
David St Jean, U.S. DOE 
Kelly Launder, Vermont
Project overview
New to HELIX or need a refresher? This introduction to the project will cover the mission of the project. 
HELIX DEMO
Be the first to preview the database with this demo by ClearlyEnergy, the project's IT contractor. You will leave this demo with a better understanding of how home energy information is imported into and exported out of the database.
Veronique Bugnion, ClearlyEnergy
U.S. Department of Energy Update
Hear the latest with Home Energy Score & home energy labeling,  and accelerator efforts at the national level.
HELIX Governance update
Hear from the HELIX team about data access and the work done this year to ensure proper governance and operational policies are in place.
Richard Faesy, Energy Future Group 
Mark James, VLS
BREAK (2:30 - 2:40 PM)
Real Estate Outreach and Education
This "green stuff" is so complicated - is help on the way?
Jeff Gephart, Vermontwise Energy Services
Synergist activities: Connecting the dots to other efforts
HELIX is just one piece of the home energy score puzzle. HELIX is just one puzzle piece, learn about other activities in the auto-population space with Multiple Listing Services, including PV Auto-pop and EMPRESS.
Ben Hoen, LBNL

Richard Faesy, Energy Future Group  
Beta testers - Talk about policy drivers
Connecticut, Rhode Island and NEREN (New England Real Estate Network) will present on the market and policy drivers for beta testing HELIX. This panel will discuss solar PV, Home Energy Score projects, and the relevance of HELIX.
Elizabeth Murphy, United Illuminating

Julia Dumaine, CT DEEP

Meg Garabrant, NEREN
Kevin Rose, National Grid
Open discussion and Questions
Moderated by NEEP
About HELIX
Buying a home is the largest investment most of us make, but home buyers typically receive little or no information about how much energy they will need to power the homes they see listed for sale (or for rent). This, despite the fact that energy is the highest cost of home maintenance – not to mention one of the most volatile. Historically, this information was simply not available, but programs like U.S. DOE's Home Energy Score now provide energy consumption and cost estimates for more homes than ever before.
The primary barrier to widespread access to energy information for homes on the market is that there is no system in place to transmit this data directly from sellers trying to market homes to the real estate listings buyers use to compare them. To patch this data hole, various stakeholders came together in 2016 to form the HELIX team through a U.S. DOE State Energy Program grant hosted by Vermont. The purpose of this project is to develop a database capable of automatically populating real estate listings (whether they are accessed through local Multiple Listing Services (MLS) or portals like Trulia and Zillow) with home energy information from Home Energy Score and other sources when it is available and approved by the seller. We are calling this database the Home Energy Labeling Information eXchange, or HELIX for short.