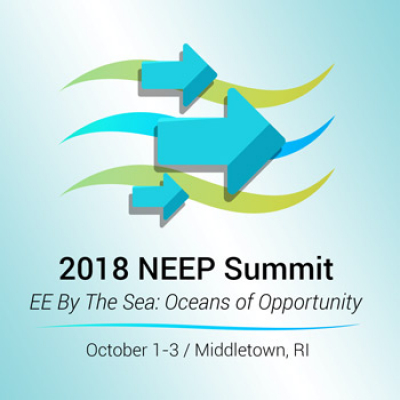 Location
Cambria Hotel & Suites
240 Aquidneck Avenue
Middletown, RI 02842
United States
Event Date
-
2018 NEEP Summit: EE by the Sea
Oceans of Opportunity
October 1-3, 2018
The NEEP Summit returned after a year hiatus, highlighting leading examples of advanced efficiency as a key pathway to building a low-carbon future. The NEEP Summit attracted more than 200 energy efficiency stakeholders, including high-profile policy leaders like public utility commissioners, environmental regulators, state legislators, state officials, community leaders, and academics as well as energy efficiency service and product providers, program administrators, and advocates who are instrumental in keeping the Northeast and Mid-Atlantic region a nationally-recognized energy efficiency leader.
The 2018 NEEP Summit took place at the brand new, upscale, and energy efficient Cambria Hotel & Suites in Middletown, Rhode Island. Just a stone's throw from the classic coastal town of Newport, this new resort was home to NEEP's two-day Summit featuring an exciting agenda highlighting leaders and leading examples of advanced energy efficiency solutions and approaches.
The Summit featured collaborative dialogues and discussions, inspiring keynotes, deep-dive breakout sessions, and other opportunities to connect and partner with regional leaders to accelerate advanced energy efficiency solutions. Topics that were explored include: advanced integrated efficiency solutions, advanced EM&V, efficient resilient communities and strategic electrification.
Visit our
agenda
page to see all the details about the different sessions and speakers.
Student mentoring program
One way NEEP helps to create a skilled and knowledgeable workforce for the energy industry of today and tomorrow is through its Student Mentoring Program, which was part of the NEEP Summit again this year.
Please stay tuned for our 2019 Summit, as we will offer mentoring opportunities again.