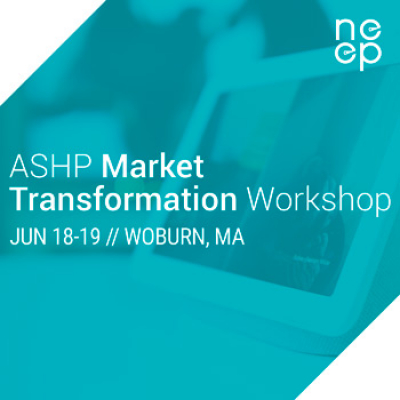 Location
Crowne Plaza Boston-Woburn
15 Middlesex Canal Park
Woburn, MA 01801
United States
Event Date
-
Air Source Heat Pump Market Transformation Workshop
Heat Pumps, Smart Controls, VRFs, Oh my!
NEEP invites you to explore how the region can work collaboratively to accelerate the adoption of air source heat pumps (ASHP) and variable refrigerant flow (VRF) systems. These renewable heating and cooling technologies are increasingly seen as important solutions to a low-carbon future in the Northeast and Mid-Atlantic region and beyond. These technologies, and others, will transform the way we heat and cool our homes and businesses.
This event will convene a diverse group of key stakeholders from across the ASHP/VRF markets, including manufacturers, program administrators, installers, technology experts, state/local policy makers, and others to coordinate effective implementation of regional market transformation strategies. Market transformation strategy reports for ASHP and VRF, developed through NEEP's ASHP and Smart Controls Initiative, will provide frameworks of key strategies for stakeholders to discuss, explore, and debate.

Purpose:
Explore the role of ASHP/VRF technologies in the context of current policy environment
Coordinate effective implementation of market transformation strategies for air source heat pump (ASHP) and variable refrigerant flow (VRF) systems
Share best practices, lessons learned, and success stories related to promotion of ASHP and VRF systems
Explore best practices related to quality assurance efforts for ASHP and VRF installations
More information about NEEP's Initiative.
Draft Early Agenda
Day 1: ASHP Focus
Tuesday June 18th, 9:30-4:30pm
WELCOME AND INTRODUCTION
Ensuring ASHP programs are delivering savings and quality 
Controls for ASHPs
Performance Metrics for ASHP
Priorities for Regional Collaboration in 2020
Observations, next steps and adjourn Day 1
Evening reception
Day 2: Cross-Cutting and VRF Focus
Wednesday June 19th, 8:30-3:30pm
WELCOME Back
Installer best practice/training/workforce development
Manufacturer perspectives on ashps and vrfs
VRF Session- Presentation of NEEP's VRF Market Transformation Strategies Report
VRF Session – Prioritizing regionally collaborative activities 
Debrief and adjourn
Lodging and transportation
This year, we will again partner with travel company TripZero (a Certified B Corp) to offset the carbon footprint created by travel to our event. Attendees can book the Crowne Plaza Boston-Woburn for $159, and by booking these hotel rooms, we collectively enable TripZero to offset the carbon footprint created by our travel – at no cost to you. Book your room at the Crowne Plaza now. Through the purchase of certified carbon offsets, TripZero funds reforestation and renewable energy projects that remove pollution from the atmosphere. As these projects offset the impact of our travel, they also create lots of benefits for local communities. Learn more here.
Sponsorship Options
From essential coffee breaks to full partner options, you can customize the way you want your organization to be involved in our events. Specifically for this ASHP Market Transformation Workshop, we have several available sponsorship options to gain visibility in front of our attendees. If you would like to sponsor this workshop, or have questions, please contact Lucie Carriou, Events Manager.
Are you a NEEP Ally? You get a 20% discount on any sponsorship option! And don't forget to claim your complimentary pass to the event.