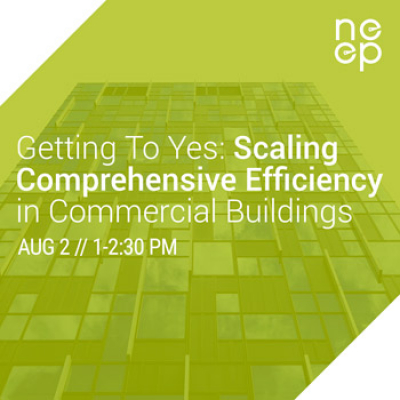 Event Date
On August 2 at 1:00 p.m. EDT, NEEP and guest speakers from Metrus Energy, VEIC, and OpenEE presented new thinking and innovation in commercial energy efficiency. The commercial sector is a large, carbon-intensive energy user. While efficiency measures have brought the commercial sector to a more efficient place, there is more work to be done.
This webinar and associated report explores why many commercial customers are not yet embracing efficiency as well as several new financing, technology, and policy changes to achieve success for commercial sector efficiency. Getting customers to "yes" and overcoming these challenges to achieve comprehensive commercial efficiency projects at scale requires a fresh perspective, new approaches, and coordination across stakeholders. This report offers strategies and solutions to achieve success in transforming the efficiency of the commercial sector.
The slides are available for download here:
The recording is available here.
Read the report: Getting to Yes: Scaling Comprehensive Efficiency in Commercial Buildings.