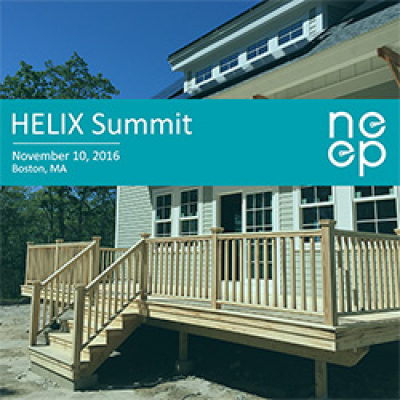 Location
Mass. Department of Energy Resources
100 Cambridge Street (2nd floor)
Boston, MA 02114
United States
Date Events
Come help us re-think and re-shape the housing market
This November, HELIX is hosting it's inaugural free, full day event where attendees will learn and help shape the first-of-its-kind effort to automate the transfer of home energy data to Multiple Listing Services (MLS) across the Northeast region. Providing real estate professionals with access to verified, independent home energy information will enable sellers to better market their properties, empower buyers to make better informed investments, and promote wiser use of energy by homes in our region – all while being completely voluntary and avoiding the privacy concerns of disclosing actual tenant energy usage.
This inaugural summit will include the latest updates from the project team as well as interactive breakout sessions that will directly influence the development of HELIX. Because input and support from across the industry is critical to the long-term success of this project, this event is free for anyone interested to attend.

TIME

SESSION NAME

DESCRIPTION

9:00 – 10:00

Opening: Everything you need to know about HELIX

HELIX team provides key introductory info (including an overview of DOE's Home Energy Score program) and project updates to ensure all stakeholders have a common foundation of understanding for the day's discussions

 

Presenters:

Carolyn Goldthwaite, Kevin Rose, and Charlie Taylor, Northeast Energy Efficiency Partnerships (NEEP)
David St. Jean and Madeline Salzman, U.S. Department of Energy
Jeremy Crawford, Real Estate Standards Organization

10:00 – 11:00

(sessions held concurrently)

Real Estate Track: What Value Will HELIX Bring to the Real Estate Industry?

Stakeholders provide feedback and discuss any concerns following a brief presentation regarding how they would be able to use HELIX  to provide additional value for their clients over the course of the real estate transaction process

 

Panelists:

Charlie Taylor, NEEP
Craig Foley, Sustainable Real Estate Consulting Services
Jeff Gephart, Vermont Green Homes Alliance

Technical Track: The Data Must Flow, but how?

Stakeholders provide feedback and discuss any concerns following a brief presentation regarding the preliminary technical scope for HELIX (e.g. data/fields to include in HELIX, database scale options, and anticipated technical issues)

 

Panelists:

Kevin Rose, NEEP
Leslie Badger, Vermont Energy Investment Corporation
Ahson Wardak, A3P Strategies

11:00-11:15

Networking Break

11:15 – 12:15

Governance and Privacy: "Who Owns the Data?," "How to determine who can access what data when?," and other open questions

Stakeholders provide feedback and discuss any concerns following a brief presentation regarding preliminary options for governance and operation/maintenance of HELIX (e.g. possible frameworks  for database management and oversight, privacy terms for homeowners and HELIX users, and options for funding and long term ownership of HELIX)

 

Panelists:

Carolyn Goldthwaite, NEEP
Mark James, Vermont Law School
Alissa Whiteman, Massachusetts Department of Energy Resources
Richard Faesy, Energy Futures Group

12:15 – 1:00

Lunch

1:00 – 1:45

Breakout 1: Connecting the Region

Attendees collaborate to share their individual insights, help overcome common barriers, and spark new ideas through breakout group discussions guided by HELIX team members (with a mix of professions and geographies represented in each group)

1:45 – 2:45

Breakout 2: Bringing it Home

Attendees now group up by state/market served to identify local opportunities to advance HELIX (e.g. possible entities who could fill HELIX governance roles, opportunities for promoting additional scoring of homes, and procedural changes needed to include eligible info in HELIX/MLS's)

2:45 – 3:00

Networking Break

3:00 – 4:00

Closing: Building a Solution Together

HELIX team reports key findings from the day's sessions and informs attendees of additional synergistic efforts to be aware of, related upcoming events and other opportunities to continue the day's conversations, and the next steps for the HELIX project.
The HELIX Team
The HELIX project is supported by the U.S. Department of Energy, Vermont Public Service Department, Massachusetts Department of Energy Resources, and several other local, state, and national partners. HELIX is possible thanks to the continued input and support of stakeholders from the Northeast region and beyond.