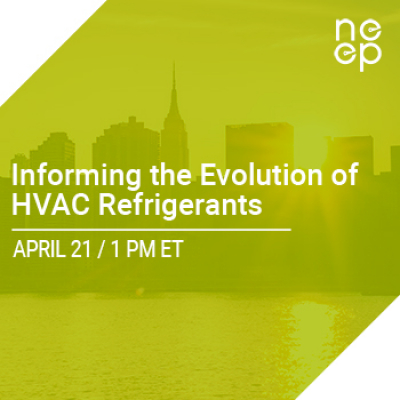 Event Date
Curious about the future of refrigerants and their role in meeting aggressive climate objectives? NEEP recently published a whitepaper on the HVAC industry's fourth refrigerant phase down, now focused on reducing Global Warming Potential. The history, chemistry, safety concerns, environmental impact, and regulatory landscape all help inform the promotion and regulation of HVAC systems. Join us to learn the basics, and hear from industry and policy leaders on Life Cycle Climate Performance and state strategies concerning the latest refrigerants.
Panelists
Ben Hiller, Technical Manager, NEEP

JS Rancourt, Principal, DXS Engineering

Suzanne Hagell, Climate Policy Analyst, Office of Climate Change, New York State Department of Environmental Conservation
View the recording here.
View the slides here.