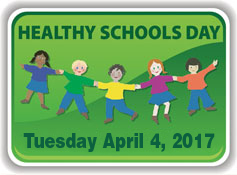 Join NEEP and HMFA Architects at Newburyport's Bresnahan Elementary School
Lexington, MA April 3, 2017 – Since 2002, parents, teachers, school nurses, custodians, advocates, and agencies have promoted National Healthy Schools Day activities nationwide. This year is no different, and Tuesday, April 4, 2017 marks the 15th annual celebration. Northeast Energy Efficiency Partnerships (NEEP) is proud to partner on this initiative, and will celebrate with a tour at a local Massachusetts elementary school.
National Healthy Schools Day is coordinated by Healthy Schools Network in partnership with many agencies and organizations. Together, we promote the use of EPA's IAQ Tools for Schools guidance as well as other EPA environmental health guidelines and programs for schools and children's health.
NEEP offers resources for those in charge of designing, building, and upkeeping schools and other public buildings. Visit our high performance schools webpage to learn more or download our report titled Regional Operations & Maintenance Guide for High Performance Schools and Public Buildings in the Northeast and Mid-Atlantic.
If you're building a new school, doing a major renovtation project, or just interested in providing healthy schools in your community, join NEEP and HMFH Architects for a free high performance school tour at Bresnahan Elementary School in Newburyport. We'll explore the facility and highlight high performance features along the way. Learn what characteristics define a high performance school and why they're important in a community's decision to embrace sustainability, and get a first- hand look at a productive, efficient, and healthy learning environment right here in our region.
When: April 4, 2017, 3:15-5:00 p.m.
Where: 333 High Street, Newburyport, MA – Bresnahan Elementary School
Who: Architects, Engineers, Facility/Energy Managers, School Administrators, Sustainability Advocates, Other Schools Community Stakeholders
How: Register here