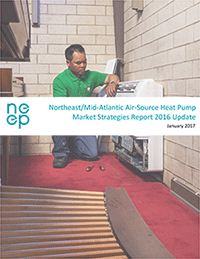 Residential air-source heat pumps (ASHP) are a heating and air-conditioning technology that use electricity to provide a combination of space heating and, in most instances, cooling to homes. A new generation of ASHPs utilizing inverter-driven, variable-speed compressor has come to market over the past five years. These systems have demonstrated radically-improved heating performance under low temperature conditions (near or below 5°F), while continuing to offer highly efficient cooling. In the process, these systems have opened up vast new markets, including the Northeast and Mid-Atlantic regions and present exciting energy use, energy cost and greenhouse gas emission reduction potential.
In 2013, NEEP launched a regional market transformation initiative to accelerate the market adoption of this technology in the region. The initiative collectively developed the Northeast/Mid-Atlantic ASHP Market Transformation Strategies Report to provide a "roadmap" of coordinated regional activities to effectively transform the market. The regional initiative and its working group have since advanced many of the key strategies, though there is still work to be done to transform this market.
In 2016, the initiative re-evaluated the key market barriers as well as potential opportunities to leverage. While most of the market barriers and opportunities remain in the market since 2013, several new barriers and opportunities have emerged. Based on our assessment of the regional ASHP market, it is clear that while ASHPs have established a viable and growing market, there remains a significant opportunity to further accelerate adoption of the technology and in the process achieve exciting energy, cost and carbon savings to the Northeast and Mid-Atlantic region.
This report, which offers an update to the initiative's 2013 report, presents a series of updated and new market strategies that, if implemented by regional stakeholders, would result in the accelerated adoption of residential ASHPs in the Northeast/Mid-Atlantic Region.
Additional Resources