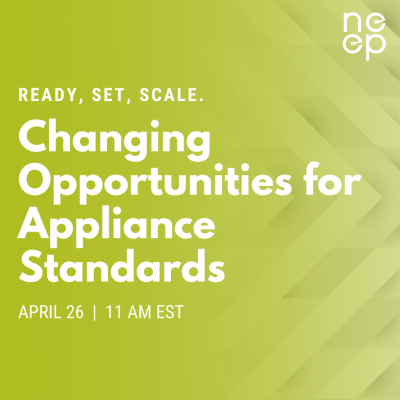 Event Date
Ready, Set, Scale. A NEEP Series: Changing Opportunities for Appliance Standards
April 26 | 11 AM EST
The Ready, Set, Scale. webinar series focuses on the mechanisms key to rapid, equitable decarbonization of the regional commercial and residential buildings sector. This series will examine strong policies and regulations to address building emissions, market transformation for electric space and water heating, community-led solutions, and replicable program and business models for low-carbon retrofits, all with emphasis on workforce development and equity.
Join us all year long for discussions, analysis, and peer learning around collaborative, multi-state approaches to transform the energy efficiency market. These webinars will provide spaces for diverse industry market actors to come together. April's webinar will be focusing on Appliance Standards.
Appliance standards are one of the most impactful energy-savings policies to date. These standards are developed and implemented by the federal government, and increasingly, by states. Appliance standards typically specify minimum energy and water efficiency levels for certain products, but recently we are seeing an emerging trend of emissions-based appliance standards. Join us to explore why federal appliance standards have been gaining attention, and how these emerging emissions-based appliance standards are becoming another tool for states to reduce their building energy usage.
Participants:
Watch the webinar recording.
View the webinar slides.