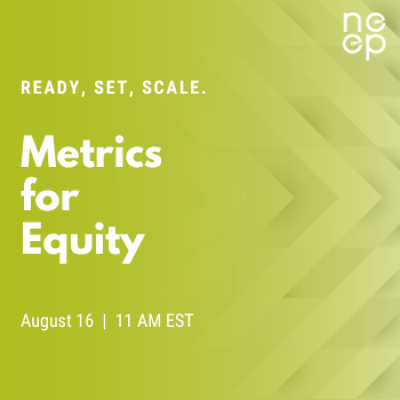 Event Date
Ready, Set, Scale. A NEEP Series.
August 16 | 11 AM EST
The Ready, Set, Scale. webinar series focuses on the mechanisms key to rapid, equitable decarbonization of the regional commercial and residential buildings sector. This series will examine strong policies and regulations to address building emissions, market transformation for electric space and water heating, community-led solutions, and replicable program and business models for low-carbon retrofits, all with emphasis on workforce development and equity.
Join us all year long for discussions, analysis, and peer learning around collaborative, multi-state approaches to transform the energy efficiency market. These webinars will provide spaces for diverse industry market actors to come together.
NEEP's new report, Centering Equity with Data, will look at how policymakers and program implementers can use data to center equity throughout the evaluation, measurement, and verification process. This webinar will share insights from the report and highlight two states that are already acting on some of the suggestions. You'll learn how these states have taken steps to identify inequities in and potential solutions to state energy efficiency programs through two specific pathways – creating an advisory group and a conducting a gap analysis. Vicki Hackett from Connecticut will discuss how the state's Equitable Energy Efficiency proceeding has used a robust public engagement process to determine barriers that exist in programs and identify ways to ensure equitable access to the benefits of energy efficiency. Lauren Wentz from Efficiency Vermont will discuss Vermont's Energy Burden Analysis which helped transform the state's low-income program portfolio by identifying high-burdened communities and programs that could serve them. Join us to to learn and engage with our panelists on how your state can center equity with data.
Participants:
Vicki Hackett, Bureau Chief of Energy and Technology Policy, CT Department of Energy and Environmental Protection
Lauren Wentz, Program Manager- Low Income and Multifamily Housing, VEIC
Erin Cosgrove, Public Policy Manager, NEEP
Watch the webinar recording.