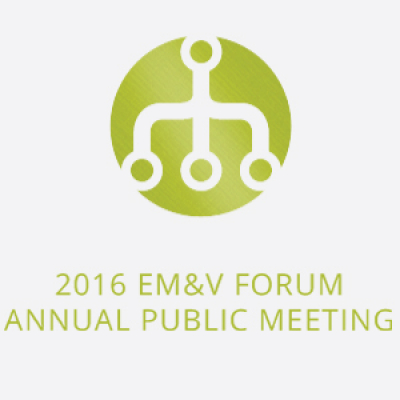 Location
Radisson Hotel Hartford
50 Morgan Street
Hartford, CT 06120
United States
Event Date
-
The Future of Evaluation
2016 EM&V Forum Public Meeting
with optional pre-meeting M&V 2.0 Workshop and Evening Reception
Location: Radisson Hotel Hartford, CT
March 30-31, 2016
March 30: M&V 2.0 Workshop - 10:30am - 4:30pm. In collaboration with US DOE, LBNL and CT DEEP, NEEP is convening this workshop to facilitate discussion among interested stakeholders on key barriers to M&V 2.0 tools to inform EE program savings estimation, and possible solutions and needs. The workshop will also cover elements of piloting M&V 2.0 tools in the region, and will map out next steps to move forward on testing and learning about M&V 2.0 to support state interests/needs.
For a full Workshop agenda with speakers, please click this link.
Reception starting at 5:30pm. The attendance is included in your registration to the workshop event. Please join us for an evening of networking.
March 31: The Future of Evaluation - 7:30am - 3:30pm. Join us for a stakeholder exchange on the cutting edge topics of the Changing EM&V Paradigm, building on the previous day's M&V 2.0 workshop; an overview of key issues covered in EPA's Clean Power Plan EM&V Guidance and EE stakeholder comments; and EM&V in an emerging world of integrated DERs. The Forum's Annual Public Meeting brings together state officials (utility and air regulators, state energy office directors), program administrators, evaluation contractors, system planners, NGOs, software as a service (SaaS) vendors and others to learn and share information about opportunities, challenges and solutions to shaping the future of evaluation.
For a full Annual Public Meeting agenda with speakers, please click this link.