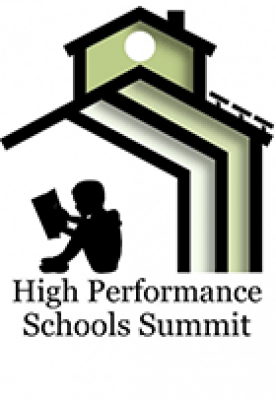 Location
Rhode Island College - Student Union Building
600 Mt. Pleasant Street
Providence, RI 02908
United States
Event Date
2016 Rhode Island High Performance Schools Summit
Superior Classrooms Support Superior Learning
Post Event Information:
All slides can be found here.
For years, researchers, educators, administrators, and even court decisions have long acknowledged the importance of educational facilities to health and educational outcomes. In order to move the needle beyond this simple acknowledgement, educational stakeholders must discuss and plan with an in-depth understanding of the relationship between specific facility improvements and student and staff outcomes. On October 21 at Rhode Island College, join superintendents, school business officials, architects, engineers, facility and energy managers, and other educational stakeholders to share lessons learned and best practices for successful school improvement projects.
Are you providing students with access to the best education? Does your facility create opportunities for the various learning modalities/styles - visual, auditory, kinesthetic, and reading/writing?
Well designed, renovated, and constructed high performance schools do just that - they offer healthy learning environments that improve student academic performance by carefully calibrating all building systems toward enabling learning in all its modalities. Furthermore, these school improvements can simultaneously lower operating costs and ease maintenance. Producing this type of facility requires technical guidance and coordination across a broad spectrum of community stakeholders. The RI School Building Authority has partnered with NEEP and other schools community leaders to host a free event to increase awareness of the benefits of high performance schools. The 2016 Rhode Island High Performance Schools Summit, held at Rhode Island College, will feature presentations and discussion focused on providing strategies for success to get RI schools on the pathway to high performance.
Sponsorship and exhibitor opportunities are available for this event. For more information, see the brochure and email Lucie Carriou.
Preliminary Agenda

(Subject to Change)

8:00-9:00 a.m.

Registration, Continental Breakfast/Exhibit Hall Open

Master of Ceremonies: Carolyn Sarno Goldthwaite, NEEP

9:00-9:30 a.m.

Welcome Address

Dr. Frank Sánchez – President, Rhode Island College

Dr. Ken Wagner – Commissioner, Rhode Island Department of Education

Opening Plenary

Governor Gina Raimondo

9:30-10:30 a.m.

Looking, Hearing, Feeling – Sensing the Benefits of High Performance Schools

Speaker:  Dr. Joseph da Silva - School Construction Coordinator, School Building Authority

Panelists:

Erika Eitland – PhD Candidate, Harvard University

Chin Lin - HMFH Architects

Patti DiCenso - Superintendent, Pawtucket School Department

Shélynn Riel-Osorio - English as a Second Language Program Coodinator, Rhode Island College

Manuel Cordero – Asst. School Construction Coordinator, School Building Authority (facilitator)

10:30-11:00 a.m.

Networking Break/Exhibit Hall Open

11:00 a.m.-12:00 p.m.

The Path to Zero Energy Schools

Speaker: Carol Grant – Commissioner, RI Office of Energy Resources

Panelists:

Nicholas Valls - Commissioning Manager, Jacobs Engineering

Puja Vohra - Principal Analyst, National Grid

Paul Torcellini - Principal Engineer, National Renewable Energy Laboratory

Becca Trietch – Chief of Program Development, RI Office of Energy Resources (facilitator)

12:00-1:00 p.m.

Lunch/Exhibit Hall Open

1:00-2:00 p.m.

Funding your School Energy Efficiency Improvement Project

Speaker:  Seth Magaziner – General Treasurer, State of Rhode Island

Panelists:

Jerry Drummond - Lead Energy Efficiency Representative, National Grid

Michael Baer, Rhode Island Infrastructure Bank

John McNamee - School Business Manager, North Providence School Department

Robert Donovan - Exectutive Director, RI Health and Educational Building Corporation Representative

Rachel Sholly – Chief of Program Development, RI Office of Energy Resources (facilitator)

2:00 - 2:30

Release of Schoolhouse Energy Report Card

Dr. Joseph da Silva, School Building Authority

Manuel Cordero, School Building Authority

2:30 - 2:45 p.m.

Rhode Island High Performance School Awards

2:45-3:00 p.m.

Closing Remarks

Michael McAteer – Director of Customer and Business Strategy, National Grid
Exhibitors

CoolGreenPower

Fujitsu
Conservation Solutions Corporation
Hillyard
Window Film Depot
ENE Systems
HMFH
Kalwall
American Window Film
RISD
Community Partners