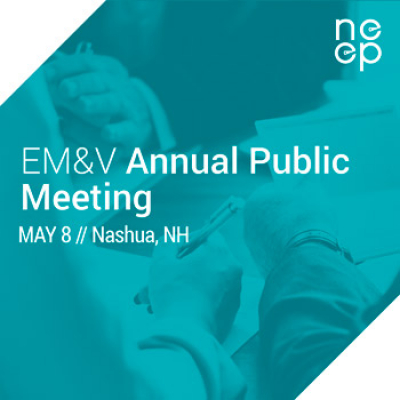 Location
Radisson Hotel Nashua
11 Tara Boulevard
Nashua, NH 03062
United States
Event Date
EM&V Annual Public Meeting: Advancing EM&V in the Region and the Industry
Reception: Monday, May 7 at 5:30 p.m.
Event: Tuesday, May 8 at 8:30 a.m.
Agenda
Welcome and Introduction
Level setting: 2018 Avoided Cost Study
Presentation: 
Elizabeth Titus, NEEP
Miles Ingram, Eversource
Pat Knight, Synapse Energy Economics
EM&V in the integrated DER environment: Current and Future
This panel explored how EM&V is evolving to meet the relevant needs of the future including non-wire alternatives, storage, and demand reduction strategies.
Presentation: 
Bill Kallock, Integral Analytics
Carrie Gill, RI Office of Energy Resources
Cindy Manson, Indutrial Economics
Mike Hamilton, EMI Consulting
Moderator: Elizabeth Titus, NEEP
Controls as an Efficiency Measure: Opportunities and Challenges
This panel explored the new complex measures presenting new challenges towards evaluating savings.
Presentation: 
Alec Stevens, Demand Management Institute (DMI)
Michael Myer, PNNL
Moderator: Dave Jacobson, Dave Jacobson Consulting
Cost-effectiveness and Non-Energy Impacts of Efficiency
Our panelists presented new resources and research in NEIs to present perspectives from the Northeast and beyond.
Presentation: 
Don Kreis, New Hampshire Office of the Consumer Advocate
Greg Clendenning, NMR Group
Julie Michals, E4TheFuture
Nate Caron, DNV-GL
Samantha Caputo, NEEP
Panel Discussion - Evolving TRMs for the Future: Outlook 2025
Technical Reference Manuals serve evaluation and program roles, but are changing to meet newer efficiency needs.  Our panelists shared their thoughts, experiences and ideas for the evolution of TRMs.
Michael Lauchaire, Central Hudson

Dick Oswald, United Illuminating
Robert Stephenson, VEIC
Moderator: Elizabeth Titus, NEEP
Conclusion
Presentation: 
Les Stachow, New Hampshire Public Utilities Commission

Elizabeth Titus, NEEP