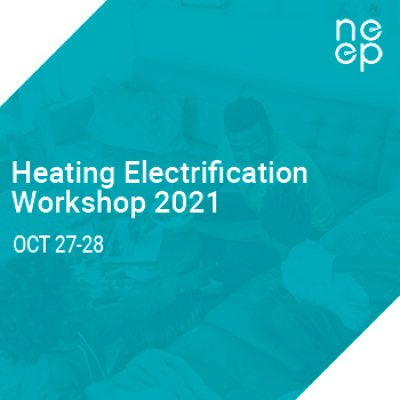 Date Events
-
Join NEEP, program administrators, manufacturers, policy makers, installers, and other stakeholders for our heating electrification market transformation workshop October 27-28. During this workshop – which was once focused on air source heat pumps – we will explore approaches for electrifying our heating and cooling sector while guaranteeing quality and comfort for occupants. Expert panelists will speak to their experience with various system applications and discuss recent advancements in air source heat pumps (ASHPs), packaged terminal heat pumps (PHTPs), variable refrigerant flow systems (VRFs), and other clean heating technologies.
As state actors continue to see the difficulty in reaching GHG reduction targets without decarbonizing the building sector, more focus is turning towards the potential of heat pumps. They are an efficient way to heat and cool homes and buildings, save on operating costs, and reduce greenhouse gas emissions. These technologies have been proven to help achieve our common clean energy goals and provide customers reliable, year-round comfort.
Virtual and interactive discussions will provide a collaborative setting to talk about driving increased consumer confidence, explore technology advancements, share lessons learned, and understand the current policy framework.
Objectives:
Explore the role of heating electrification technologies in the context of current policy framework

Coordinate effective implementation of market transformation strategies for air source heat pump (ASHP) and variable refrigerant flow (VRF) systems

Share best practices, lessons learned, and success stories for residential and commercial applications

Discuss ongoing initiatives related to quality assurance efforts for clean heating and cooling system installations