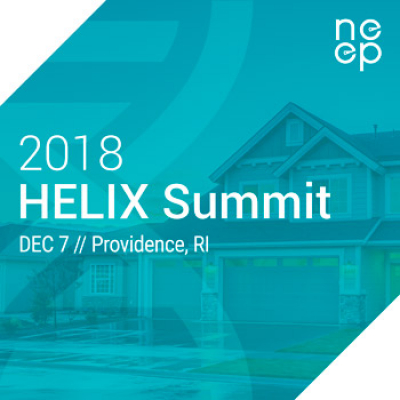 Location
Providence Biltmore
11 Dorrance Street
Providence, RI 02903
United States
Event Date
On Friday, December 7, we hosted our third annual Home Energy Labeling Information eXchange (HELIX) Summit in Providence, Rhode Island. As we near the end of this three-year project funded by U.S. Department of Energy, HELIX turns towards future business plans and carving out its place in residential market transformation. This full-day event gave attendees the opportunity to hear about how the pilot project is going and what future plans are for this first-of-its-kind effort to automate the transfer of home energy data to Multiple Listing Services (MLS). 
All presentations are now available as links in the agenda below.
Thursday, December 6

3:00-5:00 pm

National Grid Energy Hub Tours

The National Grid Energy Innovation Hub is a collaborative, community space designed to elevate the conversation around the future of energy and the environment. The Hub offers interactive exhibits where visitors can learn how they can take action towards creating a clean energy future.

 

5:00-7:00 pm

opening Reception

 

Friday, December 7

7:45 am

Check-in and Breakfast

8:30 am

Carolyn Sarno Goldthwaite , NEEP
Sue Coakley, NEEP

8:45 am

HELIX Technical overview: what it is, what it does, and how it can work for you.

Samantha Caputo, NEEP
Veronique Bugnion, ClearlyEnergy

9:15 am

This panel discussion will cover the types of data in the marketplace, current trends, and ways the data is transforming the real estate market.

 

Moderator: Ed Carley, NASEO

Madeline Salzman, U.S. DOE
Asa Foss, USGBC
Ryan Meres, RESNET
Robin LeBaron, Pearl Certification

Katrin Klingenberg, Passive House Institute US

10:30 am

Networking break

11:00 am

Panel discussion about voluntary and mandatory home energy labeling policies from uility pilots to international mandated policies. Each panelist will disccuss the policies and programs they are working on, including the benefits and challenges they have faced in home energy labeling. 

 

Moderator: Madeline Salzman, U.S. DOE

Julia Dumaine, Connecticut Department of Energy and Environmental Protection
Kevin Rose, National Grid, Rhode Island
Ian Finlayson, Massachusetts Department of Energy Resources
Lisa Timmerman, City of Portland, Oregon
Lauren McNutt,  Dunsky Energy Consulting (Canadian and European experience)

12:30 pm

Lunch

1:30 pm

 

Hear from real estate professionals that are working in the transforming residential real estate market on a day-to-day basis. What are the challenges they expereince when interacting with energy efficiency data in the real estate transaction process? Join this discussion to find out.

Moderator: Craig Foley 

John Breault, State-Wide MLS, Rhode Island
Laurie Fielder, VSECU
Joe Buonannata, Connecticut Green Bank
Rob Lynch, Maine Appraisal Institute Chapter
Gayle Oberg, Little River Realty, Stowe, Vermont

3:00 pm

Carolyn Sarno Goldthwaite, NEEP

3:30 pm
HELIX Summit adjourns
The HELIX Team
The HELIX project is supported by the U.S. Department of Energy, Vermont Public Service Department, Massachusetts Department of Energy Resources, and several other local, state, and national partners. HELIX is possible thanks to the continued input and support of stakeholders from the Northeast region and beyond.