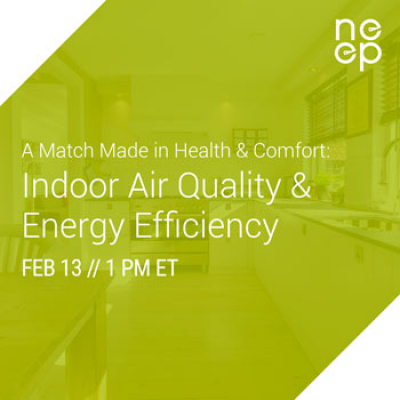 Date Events
A Match Made in Health & Comfort: Indoor Air Quality and Energy Efficiency
Public webinar hosted on Wednesday, February 13
Sixty six percent of people who expect to buy a new home in the next two years are concerned about indoor air quality. Energy efficiency coupled with healthy indoor environments can equal cost savings as well as improved comfort. The Home Energy Labeling Information eXchange (HELIX) can take this valuable home data and make it readily available in the MLS listing for home buyers, sellers, and real estate professionals, making it easy to convey this important information to clients. During this webinar, we explained how home certifications are associated with health, comfort, and energy efficiency. Our speakers, Ellen Tohn, Tohn Environmental Strategies, LLC, and Craig Foley, LAER Realty Partners, also laid down how HELIX will ultimately allow greater access to this information and transform the residential market.
The slides of the webinar are available here.
You can also view the recording here.
Save the date for the next webinar Wednesday, April 24 at 1:00 p.m.