Building Energy Benchmarking Toolkit for Communities
Utilize this toolkit if your city or town is interested in undertaking a benchmarking initiative at the local level.
NEEP has compiled a list of common questions that community stakeholders may be thinking about when considering a benchmarking program. The purpose of this toolkit is to streamline the information-gathering and development phase of a benchmarking program so that communities can more efficiently and effectively adopt a program that meets the needs of the greater community to reduce energy consumption and greenhouse gas emissions. If you are looking for more information or direct technical assistance, please contact John Balfe.
What is building energy benchmarking?
Benchmarking is the process of measuring and analyzing the actual energy consumption in a building. The data can be used to make comparisons to other similar peer buildings, the same building at a past point in time, analyze progress towards goals, assess energy consumption pre-and-post upgrades, and more.
Additional Resources: To learn more about what building energy benchmarking is, see this resource from the US Department of Energy.
What are the benefits and impacts of benchmarking?
Market-Based Mechanism: Building energy usage disclosure provides actionable information to market actors, creating permanent accountability and a demand for energy-efficient buildings that does not require public investment to sustain. The result is a market-driven cycle of building energy improvement.
Identification of Investment Opportunities: Benchmarking provides building operators and owners with information that can help identify strategic opportunities for investment in energy performance (i.e.- where to find the "low hanging fruit")
Proven Strategy for Energy Savings: On average, buildings which are consistently benchmarked reduce their energy consumption by approximately 2.4 percent each year (Source: EPA). According to a survey of facility managers, those that benchmark their properties are more likely to make energy efficiency improvements than those that don't benchmark.
Enhanced Real Estate Values: Research suggests that buildings which undergo the benchmarking process and achieve an energy efficiency certification—such as ENERGY STAR—are valued accordingly by the market and obtain higher rents, sale values, occupancy rates, productivity rates, and operational savings.
Stimulation of Local Economy Building energy usage disclosure ordinances have unquestionably spurred the creation of building construction and energy service job in municipalities where these ordinances are already in effect. Money invested in energy efficiency stays within the local economy, rather than flowing to foreign regions for harvesting of their fossil fuels.
Additional Resources: For more on the impacts that benchmarking policies are having throughout the region, see the NEEP Benchmarking Dashboard.
Lawrence Berkeley National Laboratory produced a study to take a look at the impacts that benchmarking policies are having across the country.
The Institute for Market Transformation developed a report entitled, The Benefits of Benchmarking Building Performance.
Where is benchmarking already occurring in the region?
Benchmarking is occurring at a number of different levels throughout the region:
At the individual building level: a building owner, facility manager, or other stakeholder may benchmark their building(s) on a voluntary level.
Leading By Example Efforts: On both the state and municipal level, there are many jurisdictions that have policies in place that require ongoing benchmarking of public buildings.
Municipal Ordinances: There are at least eight cities and one county that has passed a benchmarking ordinance requiring benchmarking for covered buildings. Typically these ordinances pertain to all public buildings, commercial buildings over a certain square footage, and residential buildings with a certain number of units. Check out this example of a municipal ordinance in the City of South Portland here.
Additional Resources: NEEP's Benchmarking Policy Tracker provides a snapshot of the different policies in the region.
US Environmental Protection Agency provides a map of benchmarking programs across the country.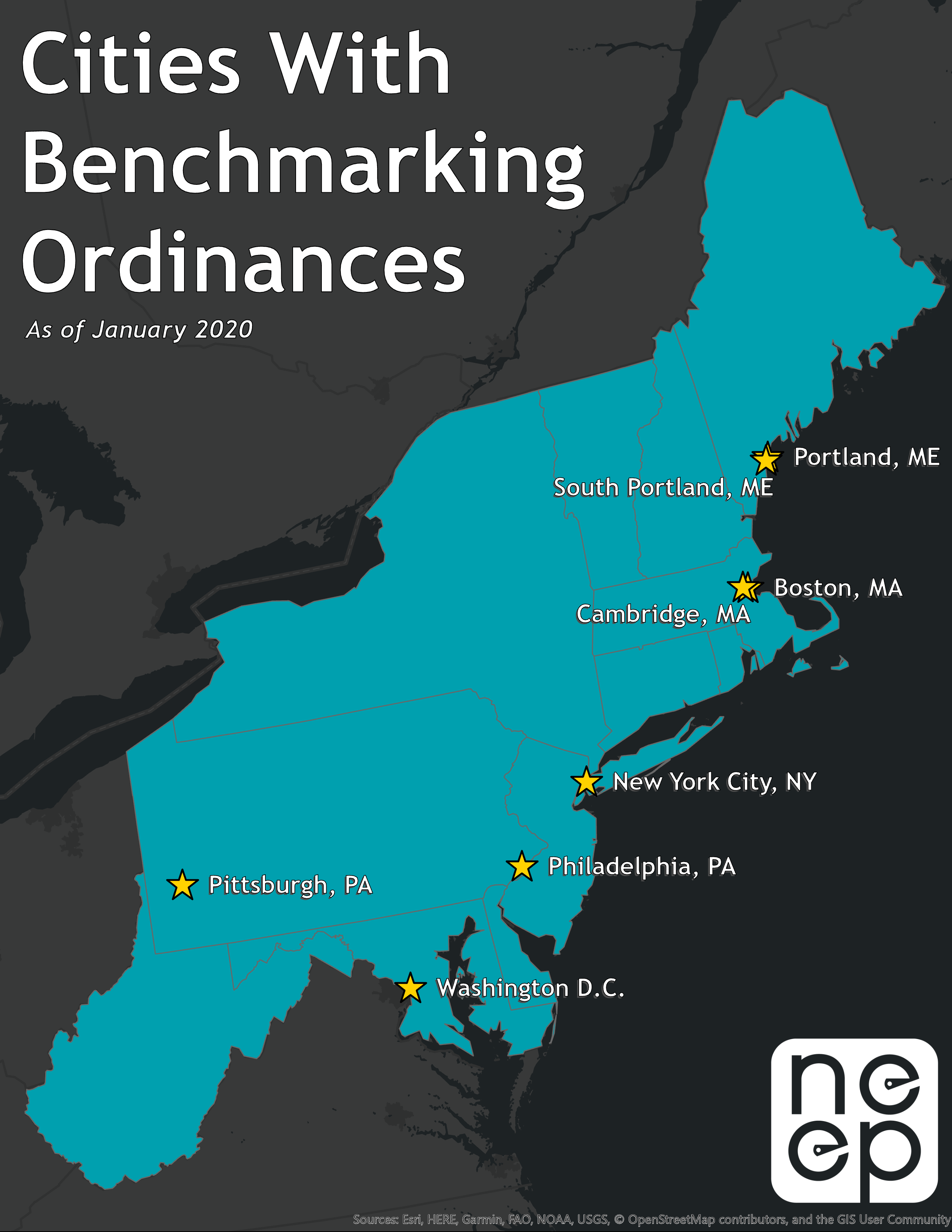 Benchmarking Cities.pdf
How can my community implement a benchmarking initiative?
There are many important considerations when it comes to designing and implementing a benchmarking program for a community. Below is a list of considerations along with additional resources for more information on that particular topic:
Streamlining access to utility data simplifies the benchmarking process by making it easier for building owners to access their energy usage data. This NEEP resource provides insights and strategies into how communities can work with their utilities to enable streamlined access to utility data.
Whole building data aggregation is the act of compiling building energy data at the whole building level for buildings that meet an established threshold (e.g. 4 units or more). It enables communities and building owners to assess data on a whole-building level versus the individual tenant level and may also help overcome any privacy concerns that tenants have. Check out this related resource here for common thresholds that have been established in the region.
Designing a policy that fits your community's needs is a critical piece of a benchmarking program's success. Stakeholder engagement, square footage thresholds, reporting schedules are a few of the many considerations that go into crafting policy language for a benchmarking program. This resource provides policy-related guidance to help communities think through the various facets of a benchmarking ordinance.
What are the next steps after collecting data through benchmarking?
A benchmarking policy should always be considered part of a more holistic plan to reduce energy consumption in buildings. Once a community or state has collected sufficient data through their benchmarking program, additional actions should be taken to make actual improvements to buildings. These actions can range from holding educational forums to adopting building performance standards. Learn more about transforming data into action here.