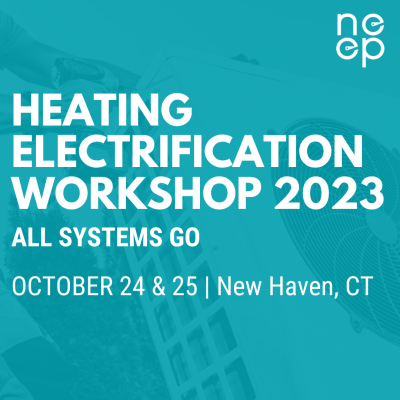 Location
Hotel Marcel
500 Sargent Drive
New Haven, CT 06511
United States
Event Date
-
HEW2023: All Systems Go
Heating electrification is at a pivotal moment marked by historic tailwinds. With mature technologies at hand, it's time for the market to address non-technical barriers like installer training and consumer awareness to support scaled up deployment. Join us at HEW2023, to explore strategies for electrifying heating, cooling, and water heating that leverage new investments and new technologies. Collaboratively, we will dig into topics including contractor insights, designing and implementing heat pump programs for underserved customers, and new heat pump categories that provide additional solutions to various sectors.
This year we are kicking off HEW2023 at the Hotel Marcel with a Day Zero Welcome Reception followed by an optional networking opportunity to dine-out at local, New Haven restaurants with small groups of conference attendees including NEEP staffers. Day One workshop sessions will explore topics important to navigating this evolving market including technology advancements, contractor barriers and opportunities, and equitable policies and programs.

Book your room at the amazing passive house Hotel Marcel and get registered for HEW2023 today.
Agenda
Tuesday, October 24
Time

Session

2:00 p.m.

Heating Electrification Working Group Meetings

NEEP's Residential and Commercial Heating Electrification working groups are coming together again for our second in-person, interactive idea-fest of 2023.
This invite-only meeting is for subscribers to NEEP's Heating Electrification Initiative.

4:00 p.m.

Opening Reception

Join fellow HEW2023 attendees for an Opening Reception in the Hotel Marcel's Sunken Lounge. A very cool space to (re)connect with heat pump people from all over our region.

6:30 p.m.

Dinner Clubs (optional)

Many a partnership has begun with a NEEP Dinner Club dinner. We hope you will take advantage of this optional opportunity to dine at local restaurants with small groups of conference attendees and NEEP staff. Let us handle reservations; we will have a meal together and split the check. 
Sign-up will be at the Opening Reception.
Wednesday, October 25
Time

Session

7:30 a.m.

Breakfast

8:30 a.m.

Opening Plenary
3, 2, 1: Deploy. Workshop Kick-off!

9:15 a.m.

Session One
Heating Electrification for All: Supercharging LMI Programs

New federal resources for heat pumps will soon begin flowing to income eligible customers. This presents both an awesome opportunity and a difficult challenge. How will new offerings and resources be integrated into existing low-to-moderate income programs? How will states, programs, and communities deliver a suite of offerings into a streamlined model that maximizes engagement? This session will explore these questions with key stakeholders working to ensure programs include LMI communities both in the planning and implementation to maximize their impact. 

Panelists

Alon Abramson, Director, Residential Programs, Philadelphia Energy Authority

10:30 a.m.

Break

11:00 a.m.

Session Two
Contractor Insights: Overcoming the Fear Factor to Shift the HVAC/Water Heating Market

During NEEP's Summit 2023, a recurring theme was the critical role of contractors in widespread adoption of heat pump technologies. How can programs and policies lower the transition risk for contractors? How can programs most effectively engage the contractor community? This session will answer these questions and more. It will offer perspectives from contractors on how they view the market and the limitations and opportunities to make heat pump options central to their business.

Facilitator

Panelists

Steve Cormier, Contractor, Cromwell Energy
Thomasena Philen, Director, Training & Workforce Development, D+R International
Martin Harisi, CEO/Founder, Harisi Energy LLC

12:15 p.m.

Lunch

1:45 p.m.

Session Three
Emerging Heat Pump Technologies: Why is Residential Having All The Fun?

Over the past few decades, the HVAC and water heating industries have made large strides towards single-family residential electrification. Many solutions are reliable, efficient, and have gained traction in the market. What about other sectors? With emissions from larger buildings expected to increase in the coming years, it is imperative to scale solutions specific to non-single family residential buildings. This session will discuss solutions and innovations for commercial and multifamily heating electrification and methods to scale those solutions.

Facilitator

Panelists

Zach Koch, Commercial Regional Sales Manager, Mitsubishi Electric

3:30 p.m.

Closing Session
Deploy, deploy, deploy!

4:00 p.m.

Adjourn
Standard
Government/Non-profit
$149
$99

NEEP is committed to creating events and programming that are accessible to all. To uphold our intention to promote diversity, inclusion, and equity in all we do, we've set up a pay what you can (PWYC) option. For more information, please contact Jessica Augat.

Heating Electrification Workshop tickets are non-refundable. However, tickets are transferrable at no additional fee.
Passive House Venue
NEEP is thrilled to partner with the Hotel Marcel for our Heating Electrification Workshop 2023 in New Haven. The Hotel Marcel is the first and only Passive House hotel, featuring a sustainability-focused operation retrofitted in an iconic Brutalist design. We hope you will support their efforts, and be sure to hit the networking opportunities, by staying on site with the NEEP staff and fellow attendees. Book online to secure our discounted, block rate of $169.00 USD/night. You can also make your reservation by contacting the hotel directly at (203) 780-7800 and providing the Group Code: NEEP10. The hotel is conveniently located by New Haven's Union Station, so please consider travel by train.
Sponsorship Opportunities
We have sponsorship packages available and appreciate your support consideration for this face-to-face event. For more details about partnering with NEEP on the Heating Electrification Workshop, please visit our sponsorship sheet. For additional information, please contact Industry Relations & Event Manager, Jessica Augat.