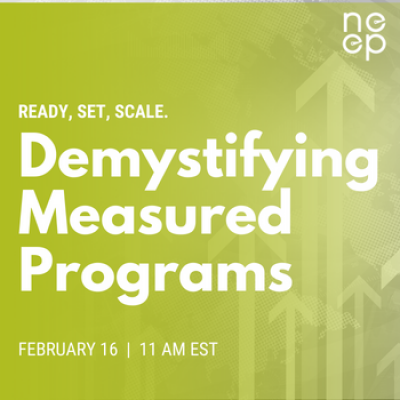 Event Date
Ready, Set, Scale. A NEEP Series
February 16 | 11 AM EST
The Ready, Set, Scale. webinar series focuses on the mechanisms key to rapid, equitable decarbonization of the regional commercial and residential buildings sector. This series will examine strong policies and regulations to address building emissions, market transformation for electric space and water heating, community-led solutions, and replicable program and business models for low-carbon retrofits, all with emphasis on workforce development and equity.
Join us all year long for discussions, analysis, and peer learning around collaborative, multi-state approaches to transform the energy efficiency market. These webinars will provide spaces for diverse industry market actors to come together.
A key provision of the Inflation Reduction Act (IRA) is The Home Owners Manage Energy Savings (HOMES) program, which provides over $4 billion in funding for states to retrofit existing homes through measured or modeled energy savings. While modeled savings programs are standard, measured savings programs are a newer way for implementers to deliver energy savings.
This webinar will outline the benefits of measured energy savings programs and highlight examples of existing programs. Panelists will dig into implementation barriers and share solutions on how states can implement existing programs as part of their HOMES programs. Implementation experts will discuss these programs and take questions from the audience.
Moderator:

Participants:
Watch the recording.