By Allison Webster | Wed, December 14, 11
NEEP, in collaboration with the Massachusetts Department of Energy Resources (DOER), is seeking proposals for innovative methodologies that can help reduce the time and cost of data collection
. Operational ratings for buildings, which are based on actual energy use (i.e. energy billing data), are great, but don't paint the full picture of a building's true energy performance. To help connect the dots, asset ratings evaluate the energy performance of a building based on the thermal envelope (e.g. insulation, windows) and mechanical and electrical systems, irrespective of tenant behavior. Asset ratings are designed to facilitate direct comparisons of energy performance among similar buildings, and in turn educate stakeholders and enable the real estate market to value energy performance, thereby increasing investments in energy efficiency.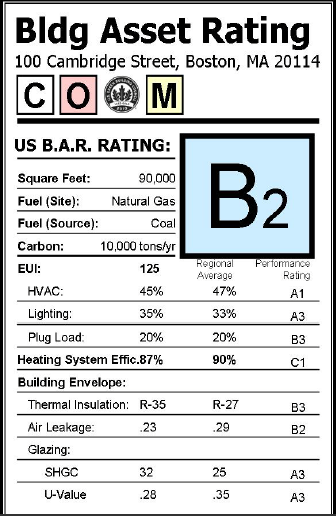 Currently, calculating a commercial building's asset rating involves a relatively extensive process that includes collecting relevant building data/ information, site visits by engineers, and detailed energy modeling. In an effort to make this easier, NEEP, in collaboration with the Massachusetts Department of Energy Resources (DOER), is
seeking proposals
for innovative methodologies that can help reduce the time and cost of data collection and modeling used to calculate as-built energy use in commercial buildings (i.e. their asset ratings).  
Register for TOMORROW's informational webinar for RFP bidders
The overall goal of the pilot is to inform the development of a national building energy asset rating system that is cost-effective and can be implemented on a broader scale so as to facilitate energy efficiency investment in the commercial building sector. Up to $240,000 is available under the Request for Proposals (RFP). NEEP anticipates selecting three or four proposals for funding, with no single award exceeding $120,000. NEEP and DOER recognize that it is unlikely that any single firm will have a comprehensive methodology for all building data categories, data collection, or modeling needs. As a result, partnerships and collaborations between different firms are encouraged.
Proposals are due by 5:00 PM on Tuesday January 10, 2012, with a goal to award a contract by Tuesday, January 31, 2012.
Click here to download the full RFP