By Jim OReilly | Thu, October 20, 11
ACEEE today released its 2011 State Energy Efficiency Scorecard, and Massachusetts topped the rankings. Also making the top 10 were New York, Vermont, Connecticut, Rhode Island and Maryland.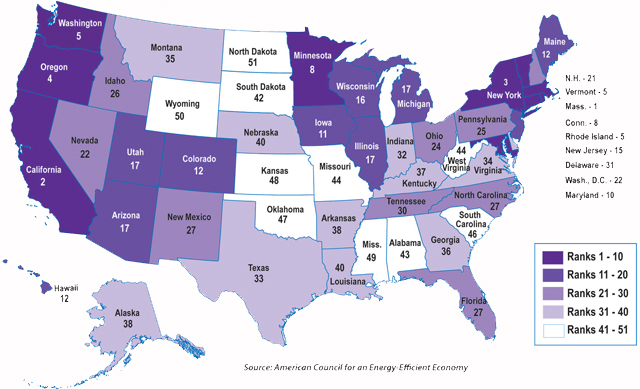 Clearly, the Northeast is the leader in setting policies that recognize and value energy efficiency as a key economic and environmental resource. In each of these states, strong executive leadership has made a commitment to capturing energy efficiency. Several have also adopted a number of policies that complement the ratepayer funded programs that provide efficiency goods and services to those states' residents and businesses. Through building energy codes, "stretch" energy codes, appliance efficiency standards, building energy rating, and other measures many of our states understand fully that the quickest, cleanest and cheapest way to address our energy needs is through robust energy efficiency policies and programs.