By Bryan Evans | Fri, September 27, 19
The beginning of September brings not only cooler weather and Patriots football, but also millions of students continuing their education with the first day of school.
Many of our country's teachers will have the same question on their minds: how can I allow my students to succeed? Developing and acquiring new skills is essential for student success. The same is true for professional growth and advancement. Lucky for realtors, this time of year is not just for grade school students.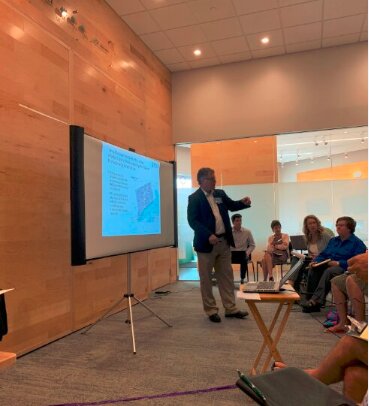 As a recent graduate, I wouldn't have thought of being in a "class" again anytime soon. There I was, though, at the Energize CT Center, an interactive energy efficiency resource center, early on a Friday morning where over 30 eager-to-learn realtors from New Haven Middlesex Realtors® (NHMR) gathered for a day of education. With the aroma of freshly made chocolate croissants, cinnamon rolls, and coffee filling the air, we were energized. On top of all of that, Craig Foley's exuberant personality and quick wit made the morning memorable.
Emerging Market Opportunities – Making the Unknown, Known
As the cost of energy remains volatile and the cost of homes continue to rise, more home buyers are valuing energy efficiency to better manage their energy use, decrease operational costs, and increase overall comfort. For realtors it is important to keep up with trends in the housing market and be able to market and value energy efficient homes accurately. Ongoing training is crucial to an agent's success in an evolving climate. Bridging the gap in the market with access to this home energy information is vital to achieve regional energy efficiency efforts.
This is where HELIX, the Home Energy Labeling Information eXchange, comes into play. HELIX, is a secure data platform that is designed to automatically populate real estate listings with verified home energy information of various energy data fields such as Home Energy Scores and solar PV information.
Green construction and retrofits are changing the real estate industry with building codes, home technology, consumer demand, and state and federal incentives changing to favor energy efficiency and renewables. Residential renewable energy and energy efficiency policy has been increasing exponentially over the years to help lead our nation to a more sustainable, cost effective energy future. With the rise in these market trends, realtors have found themselves to embrace making home energy information a core component of their capabilities.
Empowering realtors and home buyers/renters with accessible home energy information will reap myriad benefits, including appropriately appraised and marketed efficient homes, easier understanding of a home's energy use and generation, and more knowledgeable consumers making informed decisions.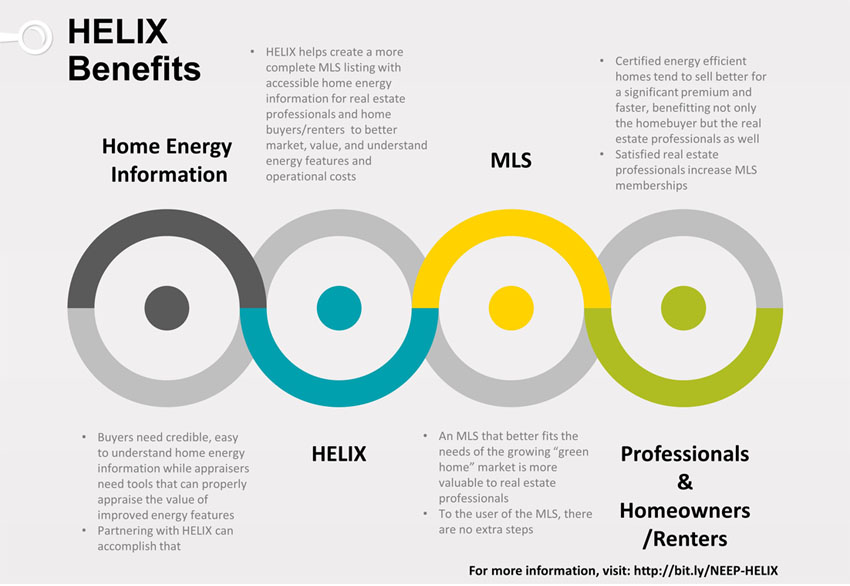 While we work to integrate HELIX into the Connecticut market, it is also being integrated into other places such as the New England Real Estate Network (NEREN). In a 2019 post, the NEREN MLS blog discussed the integration of solar PV data through auto-population in Vermont and Massachusetts listings as it has recognized the importance of providing members with home energy information.
Value & Opportunity of Training
The HELIX training was jam-packed with a full house, causing the unfortunate relocation of my seat to behind the screen. Though my view of the presentation might have been suboptimal, I was in the best seat to capture the value and opportunity of the training. My view of the multitude of hands going up every sentence, pages of notes being taken, business cards being passed around, and the focused expression of engaged listeners truly proved to me that this shouldn't be the last training in Connecticut, let alone the region.
The training kicked off with the question of, "why are so many realtors at a "green class"?" The range of answers clearly demonstrated the need for these trainings.
Clientele's increased interest in energy efficient homes and green investments.
Millennial buyers are seeking efficient homes and will pay more for energy efficient homes.
To overcome the roadblock of accessing this energy information and what I can do.
To learn and clarify any misconceptions on energy efficient homes in order to market accurately
When proposed with the question of whether they'd go into HELIX to retrieve home energy information and encourage their MLS to integrate the data, an overwhelming number of attendees responded yes. It was a truly awesome and pivotal moment that established the call for more trainings.
Takeaway
Advanced technology and innovative ideas are changing the world we live in and, with new information at our fingertips, the need for more education and trainings is greater than ever. Colleges are offering new, unique courses that were not available 10 years ago such as green business, cryptocurrency, and even an entire major in unmanned aircraft system operations (also known as drones)!
The real estate industry is not stagnant and professionals have to adapt to these emerging changes. Accessible home energy information is crucial to the real estate marketplace and consistent trainings help enable realtors to effectively utilize the HELIX database, therefore helping the growth of selling energy efficient homes.
"You (the realtors) are the champions and are a part of the solution."
- Craig Foley, LAER Realty
Realtors have the opportunity to harness the markets of tomorrow by integrating energy efficiency with real estate market forces. Be a part of the solution - become a green designated agent, contact your MLS, attend these trainings, embrace the change, and visit NEEP's Green Real Estate Resources.