By John Balfe | Mon, December 9, 19
When you think of energy efficient buildings, who are the critical market actors that come to mind? Perhaps it's those that are responsible for the design and construction of buildings – the architects, engineers, and contractors. Or maybe it's your local utility company that offers some form of a rebate or incentive for installing energy efficient equipment.
The true unsung heroes of the industry, though, are those operating behind the scenes. The silent guardians of buildings - the men and women of facility management. Professionals in facility management perform a wide range of duties to ensure our public and commercial buildings operate comfortably, safely, and efficiently on a daily basis. While they may wear many hats outside the purview of energy efficiency, their impact on energy consumption is profound.
Facility managers are important stakeholders for me to engage with in my role at NEEP as we help communities improve energy efficiency and decarbonize their buildings stock. So what better way to learn about the unique challenges and duties that this workforce regularly encounters than to walk a mile in their shoes.
Back in October, I had the great pleasure of getting an inside look at a profession overlooked by so many when I shadowed the Wellesley (MA) Facilities Management Department (FMD). If you are familiar with Wellesley, then you know it is a highly affluent community in the suburbs of Boston. That may beg the question "why go to a community with more resources than most"? Well, keep reading. You'll see why this was a great start on my journey to dive deeper into the world of facility management.
Through my involvement with the Massachusetts Facilities Administrators Association (MFAA) – a group doing great work to make schools and other public buildings safe, healthy, and comfortable – I was able to connect with Joe McDonough, Facilities Director in Wellesley. When Joe sent me the following agenda, I knew I was in for a very informative day:
9:00 - 9:45: Meet with Joe to get overview of the FMD
9:45 - 10:00: Meet with FMD Finance & Office Manager
10:00 - 10:30: Meet with Administrator for the Town's Sustainable Energy Committee
10:30 - 11:15: Meet with FMD Operations Manager (former Energy Manager)
11:15 - 12:30: Visit a few buildings with our Maintenance Manager to observe custodial and maintenance practices
12:30 - 1:00: Wrap up and discussion with Joe
I arrived at Wellesley FMD at 9:00 a.m. excited for the day ahead. Our first topic of discussion covered the structure of the department. Joe made it his mission to consolidate the functions of schools and town buildings into one department to operate as one cohesive unit covering a total of 28 buildings in the town. This would help reduce the push and pull between the separate operating/capital budgets for schools versus town buildings. The end result was a clear and logical flow between the Board of Selectmen, the Town's Executive Director, and each of the business areas within the department which include Design & Construction, Operations, and Custodial. The structure of the department may appear trivial at first, but it is actually a very important facet of the department that trickles down into day-to-day operations. This model serves as a great example for other communities, regardless of size and financial circumstance.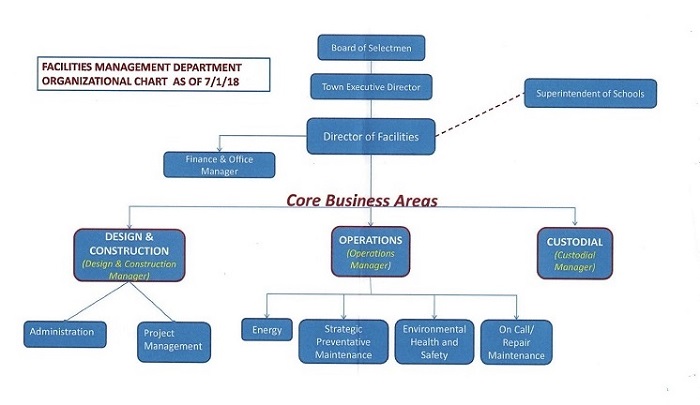 From there, I met with the finance office to hear more about how the department manages its $10 million budget. FMD develops operating and capital budgets on an annual basis by developing a preliminary list of projects that are informed by individual building managers and requests made the previous year. Careful consideration and priority are given to projects involving safety, impact on work/learning environment, and energy efficiency, amongst other things. Beginning in 2012, the department switched gears to tackle many of the maintenance issues that had been deferred over the years. After several years of playing "catch-up", FMD now deploys a proactive approach – budgeting and planning for capital upgrades rather than reacting to unforeseen maintenance needs.
The bulk of my morning in Wellesley was spent checking out a few of the buildings within FMD's portfolio. We started by walking around the 280,000 ft2 high school which opened in 2012 and was designed to the (now obsolete) MA-CHPS standard. The high school is a prime example of the town's emphasis on energy efficiency and sustainability. It also showcases the success of those, often overlooked, building managers. The school was designed to achieve an EUI of 27 but is actually exceeding those projections by achieving an EUI of 24. I spoke with custodians and other building operators about the various features of the school including the renewable energy systems and the unique "team cleaning" approach that custodians use to ensure the building is a healthy and energy-efficient learning environment. This video on FMD's website provides an overview of the ongoing maintenance work the department completes. It also serves as a great mechanism to showcase the important role of these unsung staff members to the greater community.

My short stay in Wellesley concluded with one final meeting with Joe and a member of the town's sustainable energy committee. A minor, yet not-at-all insignificant detail of this meeting was that the town's facility director and sustainable energy committee were in close and constant collaboration with one another. This collaborative style is paramount to the success of a community's sustainability initiative and underscores the importance of something I touched on earlier in the blog – the structure and leadership of the department.
While Wellesley's community profile may offer circumstances and opportunities that other communities do not have, it's facilities maintenance department has many elements that can be replicated elsewhere. These best practices can elevate the facility maintenance industry as a whole.
Flash forward a couple weeks after my "day in the life of a facility manager" and I was at the annual MFAA conference in Danvers, Massachusetts. I sat in on a session titled "Advocating for Your Facility Needs" presented by, you guessed it, Joe McDonough of the Wellesley Facilities Management Department. His session touched on many of the elements that I got to see up close on that day I spent with him. He emphasized the importance of communication, collaboration, and professionalism to a room full of facility directors that represent such a critical, yet underappreciated, component of the energy efficiency industry.
For more information and strategies to improve the health and efficiency of your existing buildings stock, check out NEEP's newest update to the Regional Operations and Maintenance Guide.
A special thanks to Joe McDonough and the rest of the Wellesley Facilities Management Department for having me shadow their operations for a day!