By Darren Port | Tue, December 16, 14
The NEEP Buildings Team recently convened a webinar for the NEEP Multifamily Stakeholder Group highlighting two outstanding multifamily initiatives in the State of Rhode Island. The webinar featured presenter Nick Corsetti from National Grid speaking on National Grid's Rhode Island benchmarking programs and Mark Kravatz from the Green and Healthy Homes Initiative (GHHI) addressing GHHI's leading edge work addressing health in multifamily buildings. National Grid's and GHHI work have a natural symbiosis; National Grid's benchmarking work generates leads that GHHI utilizes to forward health and energy efficiency retrofit goals.
National Grid's Rhode Island Benchmarking Pilot

As one of the leading electric and gas utilities in the Northeast, National Grid offers comprehensive single point of contact energy services for multifamily customers including energy assessments and incentives, within the State of Rhode Island. Through a partnership with several national organizations (NRDC-Efficiency for All, WegoWise, Elevate Energy, and ACEEE), foundation funders (JPB Foundation), and the Rhode Island Housing Authority, National Grid is in the process of benchmarking 480 affordable multifamily housing units, in 2014.
As the lead generator for the program, National Grid will use the benchmarking data to engage owners and tenants with the aim toward an energy efficiency retrofit. Retrofits may include air sealing and insulation, heating and hot water, cooling, lighting and appliances.
In addition to National Grid, utilities in general benefit from benchmarking and retrofits of existing housing stock. The reduction in energy use assists them in meeting state and national energy savings and carbon reduction goals. The efficiency improvements lower operating costs for building owners allowing them to maintain the housing affordability.
Renters benefit through lower utility bills and healthier living environments. Multifamily housing represents a quarter of the nation's housing stock and over twenty percent of the energy used by homes. National Grid understands that multifamily housing represents enormous potential for energy savings and plans to roll out benchmarking initiatives in other areas of their territory, including Massachusetts and New York and to other building sectors in Rhode Island.
Green and Healthy Homes Initiative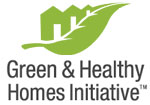 The Green & Healthy Homes Initiative (GHHI) offers comprehensive, integrated, whole house initiatives that produce green, healthy and safe homes. The organization through state and regional "outcome brokers" breaks the link between "unhealthy housing and unhealthy children." The GHHI started as the Coalition to End Child Lead Poisoning and later transitioned to broader measures for multifamily buildings including, integrated pest management, indoor air quality and later weatherization and energy efficiency.
In a webinar presentation, Mark Kravatz, GHHI Director of Programs, illustrated the complex and labyrinth-like process a home or building owner may have to navigate to utilize programs, incentives, and policies toward a more energy efficient and healthy home in Rhode Island and elsewhere. Low-income families are particularly challenged for resources to renovate homes. GHHI broker's outcomes, by delivering a streamlined one-stop-shop approach which they call "braiding" programs together. Through this process GHHI averages between $45,000 - $65,000 in incentives per home. In Rhode Island, GHHI has aggregated nearly $12 million dollars in financial resources to date.Mark explained that asthma is a major health issue for tenants of multifamily homes due to poor indoor air quality, lack of ventilation and obsolete HVAC equipment. 67 of 430 students in one Rhode Island elementary schools missed at least one month of school per year due to asthma related absences. GHHI tracks hospital visits in an effort to confirm the link between unhealthy home and asthma. Other hazards found in the home are lead, radon, asbestos, VOCs, pests, mold and moisture, carbon monoxide, tobacco smoke, trip, fall and fire hazards.
GHHI is utilizing Social Impact Financing models such as Social Impact Bonds and Pay for Success contracts to accelerate the retrofit of homes for children with asthma. Social Impact Financing utilizes private investor funds to pay the upfront costs for providing social services, including the retrofit of multifamily homes, and government agencies repay the investors with a return on the investment if the initiative achieves the desired outcomes such as reduced absenteeism, better school performance or decreased health care costs. GHHI is utilizing $1 million dollars of bond funding to work with five cities in Rhode Island to reduce asthma related hospitalizations.
There are 416,000 housing units in Rhode Island; 80k are low income, and nearly a third of the population of the state is low income. Mark introduced us to the Lopez family, who when he meet them had 160 bags of recyclables in their yard that they were saving to cash in for a new boiler. The boiler was from 1940 and the Lopez's had children with asthma. Through GHHI innovative one-stop-shop "braiding" approach they were able to aggregate $50,000 to assist the Lopez's renovate, replace the boiler, weatherize and remove lead. Through a partnership with the Rhode Island Alliance for Health Homes GHHI currently has 135 units in an energy and health homes pilot, including many multifamily units.