By Allison Webster | Fri, August 19, 11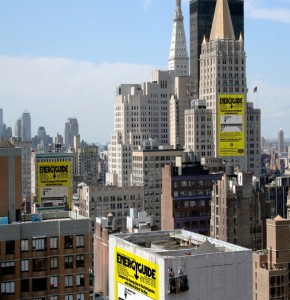 First adopted over a decade ago in Australia and Denmark, mandatory building energy rating policies are now in place in over 30 countries worldwide. Fundamentally, rating and disclosure is pretty straightforward – we see the concept applied every day in nutritional labels on food, fuel economy stickers on cars and energy labels on appliances. Unfortunately for buildings, slapping on an energy rating label isn't as easy as this photo illustrates and unlike national labeling requirements for vehicles or appliances, rating and disclosure policy requirements for buildings will vary substantially between jurisdictions. In an effort to provide best practices and address common implementation challenges faced by jurisdictions, the
Institute for Market Transformation's (IMT) new report entitled Building Energy Transparency
takes a look at the varying building energy rating and disclosure policies enacted into U.S. law by two states (California and Washington) and five cities (New York City, San Francisco, Seattle, Washington, D.C. and Austin, Texas). These cities and states have adopted innovative policies that rate the energy performance of buildings and make that information available to consumers. These mandatory building energy rating laws, to be phased in this year, will have an enormous impact on American real estate, affecting 4 billion square feet of building space nationwide. Requiring building owners to measure the energy consumption of their properties and publicly disclose that data effectively pulls back the curtain on energy use and its costs, and in turn encourages building energy improvements and stimulates market demand for energy efficiency. According to IMT's report, building owners have the potential to influence the real estate decisions of tens of thousands of businesses, tenants, investors, pension funds, lenders and building owners and operators. NEEP believes it! For the last four years,
NEEP
has worked to help states in the Northeast realize the high impact savings potential of building energy rating and disclosure policies…in fact, you can read NEEP's report too on
Valuing Building Energy Efficiency through Disclosure and Upgrade Policies: A Roadmap for the Northeast U.S.
or check out our Policy Director, Jim O'Reilly's recent presentation
briefing on building energy rating to U.S. Senate staff
in Washington this July. There is no denying that building energy rating disclosure policies can be effective in getting markets to value energy efficiency, and act as a powerful complement to more conventional incentive programs. It's great to see more cities and states jumping on board and their efforts featured so comprehensively in IMT's new
report
.