By John Otterbein | Wed, September 2, 15
Home energy management systems (HEMS) are an invention of the internet age. They are a 21st-century by-product of the idea that when two-way communication between utilities and homeowners is paired with the proliferation of smart devices, the results are greater connectivity, control, and ultimately comprehensive energy savings. By supporting HEMS, programs have a golden opportunity to leverage the power of smart technology to accelerate progress towards sustainability goals while engaging customers with relevant, useful, even delightful enhancements in their living environments. NEEP's new report, Opportunities for Home Energy Management Systems in Advancing Residential Energy Efficiency Programs, lays out the pathways program administrators can follow to take HEMS to the next level in their efficiency programs.
A 2010 ACEEE report began to quantify the opportunities presented by HEMS devices and technology. The results of the report showed feedback initiatives as an effective behavioral tactic that could reduce household electricity consumption from four to twelve percent on average. These findings formed the basis for an accelerated interest in energy efficiency programs that used direct feedback as a savings mechanism, often with a connected, communication-capable device at the heart of the strategy.
And that's merely the tip of the iceberg.
HEMS make it possible to deliver whole-home energy usage information, long-term customer engagement, demand response savings, direct load control, the capture of "flexiwatts", data and transparency for measurement and verification, and ultimately more cost-effective energy savings.
GreenTechMedia (GTM) originally forecasted the HEMS market to be worth over $4 billion by 2017. The market has now eclipsed this prediction two years ahead of schedule. According to a report released by Navigant Research in June 2015, "annual revenue from shipments of residential 'Internet of Things' devices is expected to increase from $7.3 billion in 2015 to $67.7 billion in 2025."
Although these forecasts are promising, with HEMS devices sprouting up throughout the marketplace, the emergence of HEMS as a centerpiece of energy efficiency program strategies isn't without its fair share of market impediments.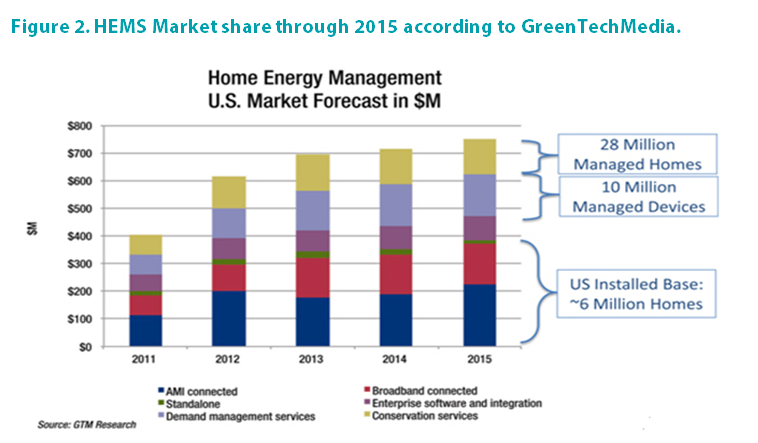 In 2011, when the market for HEMS seemed to depend heavily on smart meter implementation, GreenTech Media (GTM) held a Smart Grid HAN webinar that described what it called, "tipping points", or several key conditions that need to occur for HEMS to achieve wider adoption and implementation. These tipping points include smart metering infrastructure, 'idiot-proof' installation, and lower prices. Even though the market has expanded in the four years since that analysis, many of the conclusions from GTM's analysis still ring true for energy efficiency programs and the market has yet to fully "tip" in the right direction.
The potential energy savings impacts of HEMS warrants their widespread inclusion in the next generation of energy efficiency programs, but multi-faceted market confusion and unmet tipping points have, so far, barred the door for far-reaching HEMS uptake. The lack of independently verified empirical data on HEMS-provided savings impacts, as well as the lag in development of standards and communication protocols, has created a turbulent market for consumers and participants in energy efficiency programs.
This lack of market clarity led NEEP to develop the Opportunities for Home Energy Management Systems in Advancing Residential Energy Efficiency Programs, a compendium of market opportunities, technology and program assessments, and program design hypotheticals. With the extensive research and market insights of this report in hand, our hope is that programs will be better equipped to select venders, manufacturers, and third-party service providers to deliver an advanced HEMS platform to program administrator clients.
Homes will, in the not-so-distant future, be filled with smart technology. Those critical programmatic considerations, that may be taken for granted in traditional residential energy efficiency programs, deserve fresh attention with the new perspective granted by the capabilities inherent in HEMS.
In order to continue delivering savings to program administrators on a mass scale, as well as utilizing the capabilities of smart metering infrastructure once it comes online, residential pilots or programs should explore the inclusion of HEMS as not only energy-saving solutions, but as integral to the future of connected, smart homes.
If you'd like to learn more about this report/topic, we encourage you to register for our upcoming webinar hosted by Claire Miziolek, NEEP's Market Strategies Program Manager.