By Natalie Hildt Treat | Wed, August 3, 16
Electric air-source heat pumps (ASHPs/heat pumps) are an increasingly popular mode of delivering heating and cooling to buildings. Heat pumps are typically much more energy-efficient than older technologies such as hydronic boilers or resistance heating. They give users a great deal of control over their indoor comfort with zoned heating and cooling and have none of the health and safety concerns of combustion sources such as heating oil, propane and natural gas. Heat pumps can help states with their carbon reduction goals, especially when paired with onsite renewable generation such as rooftop solar.
Yes, in the case of heat pumps paired with solar, adding to the electric load is actually a good thing, in terms of emissions and climate concerns. From a policy perspective, NEEP sees the growth of heat pumps as key to strategic electrification, or "decarbonization" of our buildings and power systems. For an overview of one leading state's path, see our recent blog on Vermont's Strategic Electrification Initiative.
On the programmatic side, for the past several years NEEP has managed a regional working group on heat pumps, delivered the Northeast/Mid-Atlantic Air Source Heat Pump Market Strategies Report and overseen the development of the Cold Climate Air Source Heat Pump Specification, since having equipment that meets the performance expectations of customers is essential to adoption and success. For more background, NEEP's most popular blogs on ASHPs can be found here.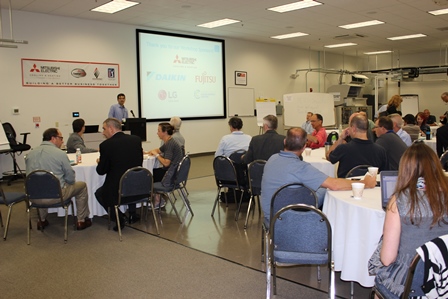 In July, NEEP hosted a workshop focused on exploring the barriers and opportunities to advance adoption of air source heat pumps in the Northeast and Mid-Atlantic region. The meeting included a broad range of stakeholders such as manufacturers, program administrators, low income organizations, state agencies, environmental organizations, and consultants. NEEP's public policy team was there with a special interest in the ideas for policy innovations that are underway or needed across the region and beyond.
Several states in the region are already embracing policies that, either through legislation or regulatory action, will support rapid expansion of the market for air-source heat pumps in the next decade. Most notably, these leaders include New York, Vermont, Rhode Island and Massachusetts. For details, see our recent brief on Policies Driving Air Source Heat Pump Expansion.
As a result of workshop discussions, here are a few ideas for policymakers to explore:
Whether program administrators and regulators could more fully account for the non-energy benefits (NEBs) of ASHPs, including improved indoor air quality and safety vs. combustion systems.
How to link ASHPs with solar installations — in policies such as those advanced by leading states, and also in the programs themselves. For example, could proper weatherization and sizing of HVAC equipment be required before or result in premium incentives for solar installations? Or are there ways that solar installers could also be enticed to pair their offering with heat pump installation, such as the companies Sun Common or South Mountain currently do.
When there is more than one entity supporting programs within a state, as is the case with the Massachusetts Clean Energy Center and the ratepayer-supported Mass Save® programs, what more can be done to coordinate programs and support state policy objectives, such as reducing greenhouse gas emissions?
Could utilities be encouraged to provide advanced meters (smart or AMI meters) to customers who have rooftop solar, heat pumps and/or electric vehicles — in order to facilitate rates and price signals that prompt customers to facilitate load management?
In what ways could enhanced regional coordination among state agencies and program providers help grow markets — in particular for the premium rated Cold Climate ASHP models?
Because we see energy efficiency a foundational component of a clean energy future, pairing efficient electric equipment such as heat pumps with rooftop solar is a natural fit, in NEEP's view. We will continue to track regional policy developments and share best practices. Meantime, please be on the lookout for an updated ASHP Market Transformation Strategy report due out this fall. It will feature current market and field-testing data, and revised and additional recommendations and insights that came out of the recent workshop.