By Samantha Bresler | Mon, February 29, 16
The progression from development of the Northeast/Mid-Atlantic Air Source Heat Pump Market Strategies Report to the development and growth of the Cold Climate Air Source Heat Pump Specification has been a remarkable journey. We've enjoyed updating the efficiency community on the Air Source Heat Pump (ASHP) initiative through our blog and would like to take a look back. Let's reminisce shall we?
A Breeze of Innovation, Air Source Heat Pumps Hold Potential (January, 2014)
When we published the ASHP Report, it helped us uncover the potential of this emerging technology and the barriers that stand against its widespread market adoption. The report represented a crucial first step towards regionally coordinated market strategies.
Air Source Heat Pumps a Hot Topic at NEEP's Pre-Summit Workshop (August, 2014)
The workshop built broad stakeholder support; strengthened relationships between programs and trade allies; and demonstrated that the states continue to strive for a strong deployment of cold-climate compatible products. Our stakeholders are a key aspect of our work and this workshop highlighted that important collaboration. It resulted in a strong foundation for the cold climate specification. Before the end of 2014, the cold climate performance criteria for heat pump technology would be developed.
The ASHP Magic Trick: Creating Warmth from this (Freezing) Air (September, 2014)
Remember when the cold climate ASHP specification was young? Before the 100+ listed units and seven participating manufacturers? The specification is now widely used by energy efficiency program administrators to identify model equipment and performance requirements. The listed models are also used by engineers, contractors, and other practitioners who need assurance that the equipment they select will have the required heating capacity at certain temperatures and will serve the building's load throughout the temperature range. By identifying the best unit for cold climate performance, customers can end up saving a lot of money.
Looking for Winter-Proof Heat Pumps? (March, 2015)
When entire units are replaced, the annual ASHPs savings are around 3,000kWh (or $459) as compared to electric resistant heaters and 6,200kWh (or $948) as compared to oil systems. When displacing oil (i.e. the oil system remains, but operates less frequently), the average annual savings is near 3,000 kWh (or about $300). These financial and energy savings are great, but due to our colder northern climate we increasingly see the need to clearly identify which ASHP models can perform in these temperatures versus those that cannot.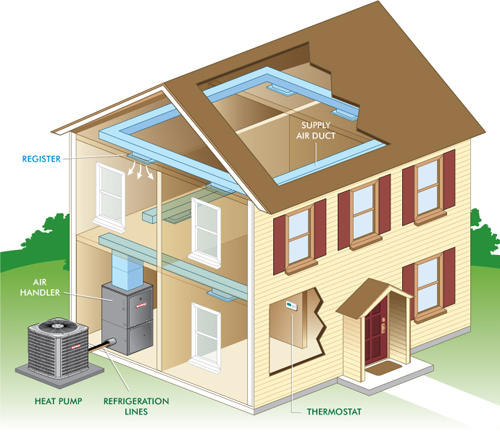 What Heat Pumps are YOU Buying? (September, 2015)
As heat pump popularity increased, people started to ask: What's the difference between a ducted, ductless, or short-run ducted system? Is there a difference between multi-zone and single-zone setups? Should a homeowner purchase a split or packaged unit? All are important questions when determining the heat pump configuration and lowest-possible electricity bill. Before the decision is made, individuals should know that there are ASHP Incentives available in most Northeastern and Mid-Atlantic states. Since ASHPs offer the potential to significantly reduce energy use in homes― for electric, gas, heating oil and propane―efficiency programs are lining up to offer large rebates and incentives. They'll walk individuals through the options and help determine the right option for their homes.
Heat Pumps for the Holidays (December, 2015)
Regional programs struggle to clearly identify which heat pump models perform in the cold climates throughout the Northeast and Mid-Atlantic. This has led to individual states and programs to develop their own specifications that recognize qualifying products for rebates and incentives. The result is an assortment of requirements across the Northeast and Mid-Atlantic, whereas a single, unified, requirement would streamline the qualification process and incentive offers. There is an opportunity to connect the ccASHP specification with analogous efforts of other organizations within our network for a more streamlined market.
Before the ccASHP specification was released, heat pumps were already improving living spaces, cost savings, and reductions in carbon emissions. As discussed in the recent Regional Roundup, despite the low prices of oil and propane, heat pumps will continue to represent a significant opportunity to achieve deep reductions in greenhouse gas emissions. Therefore, as we continue to monitor this space, NEEP hopes to undertake a research project addressing baseline market penetration. For more information on the specification, check out the current NEEP listing here.