By Cecily McChalicher | Tue, May 14, 19
Welcome to the latest REED Rendering issue, a series of blogs where we bring your attention to interesting trends that we see in the data and the stories behind those trends.
NEEP has recently added a new year of energy efficiency program data to the Regional Energy Efficiency Database (REED). Which year? Remember that year the Patriots won the Super Bowl? I suppose that's not a helpful clue. How about the year of the Great American Eclipse, Wonder Woman lighting up the big screen, Hurricane Harvey, and the Houston Astros' World Series victory?
You got it - 2017!
Since energy efficiency program results aren't available as quickly as our high-speed world might expect, there is a lag in posting data to REED. NEEP is happy to share that program year 2017 energy efficiency data is now available on REED, bringing a seventh year of data to NEEP's unique regional energy efficiency resource.
REED data is now available for program years 2011 through 2017, including annual and lifetime electric and gas energy savings, demand savings, expenditures, cost of saved energy, funding sources, job creation impacts, and avoided air emissions. REED's 2017 data includes eight jurisdictions in the Northeast and Mid-Atlantic region: Maine, Vermont, New Hampshire, Massachusetts, Rhode Island, Connecticut, New York, and the District of Columbia.
"Because no matter how small an act of kindness or generosity or simple positivity you put out into the world, it will make a difference."
—Wonder Woman comic
Similarly to what Wonder Woman has to say, small or large, any act to save energy will make a difference. In 2017 we saw a big increase in energy savings. The 2017 data reveals gross annual energy savings of nearly 4.3 million MWh, an increase of 30 percent from 2016 for the eight jurisdictions that reported data to REED in both years (Maryland reported data to REED for 2016, but was unable to provide 2017 data).
Much of this increase is due to a significant jump in annual energy savings from New York's energy efficiency programs. New York's energy savings come from utility energy efficiency portfolios and the New York State Energy Research and Development Authority (NYSERDA) and its Clean Energy Fund (CEF). This represents a big uptake in energy efficiency, with an investment of $2 billion over 10 years in support of energy efficiency for all fuels. In addition, the utilities are transitioning from the Energy Efficiency Portfolio Standard to Efficiency Transition Implementation Plans under the ongoing REV initiative. We will continue to see New York's energy savings grow since the Governor announced new savings targets of three percent by 2025. The utilities and NYSERDA have filed energy savings targets and report to achieve this goal.
In 2017, the cost of saved energy for energy efficiency programs remained much lower than the $0.18/kWh cost of energy supply, with the New England states ranging from a low of $0.02/kWh in Maine to a still very low $0.04/kWh in most of the other states. This demonstrates energy efficiency's continued role as a low-cost energy resource.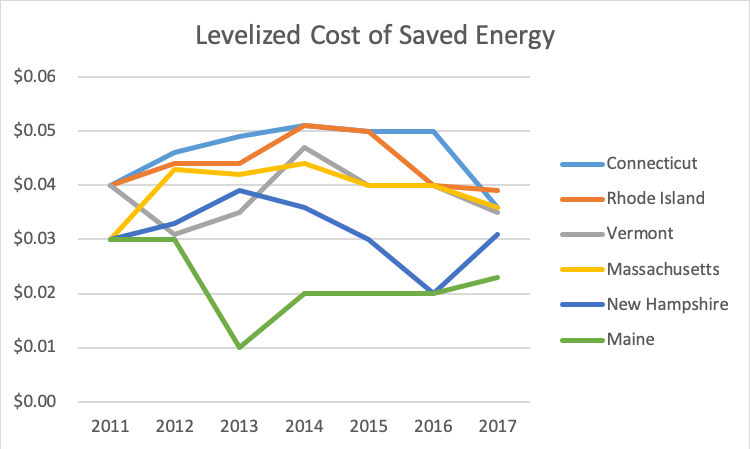 Another REED metric that is of increasing interest given carbon reduction goals is avoided emissions from energy savings. REED calculates avoided emissions data for CO2, NOx and SO2. In 2017, the eight jurisdictions reporting data to REED collectively avoided nearly 1.4 million tons of CO2, equivalent to one year's energy use for 150,000 homes. REED currently includes avoided greenhouse gas (GHG) emissions from energy efficiency, and is looking to expand to capture total GHG emissions from all sectors in order to comprehensively track states' progress towards meeting carbon reduction goals.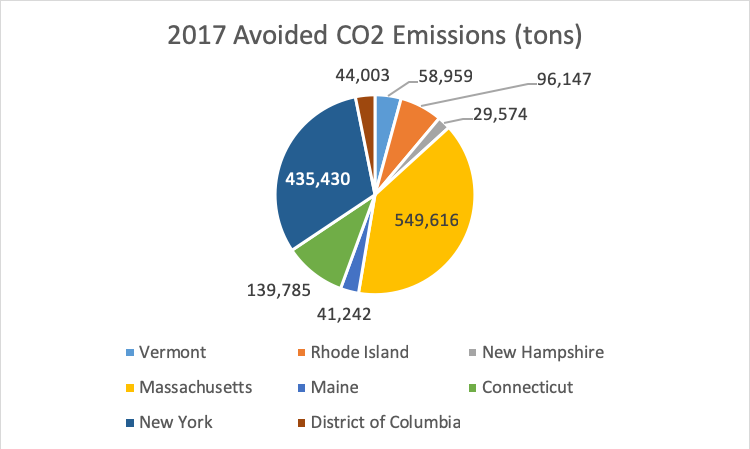 REED provides a consistent platform for the reporting of energy efficiency program impacts across the region. However, since complete consistency across states isn't achievable, REED includes a report footnotes page that provides information about program differences between the states that impact the REED data and reports. These footnotes bring important context and nuance to the REED data.
Overall, the 2017 REED data demonstrates that energy efficiency programs in the Northeast and Mid-Atlantic region continue to deliver energy savings cost-effectively. They are also making a meaningful contribution to meeting the aggressive carbon reduction goals that many states are putting into place.