By Lisa Cascio | Wed, October 25, 17
The content of this blog first appeared as an article co-authored by NEEP's Lisa Cascio (PR Manager) and Dave Lis (Director of Technology and Market Solutions) in the fall 2017 issue of BuildingEnergy Magazine, a publication of the Northeast Sustainable Energy Association. The original article can be found starting on page 10.
Let's go on a journey. For a moment, let's jump into our Back to the Future-inspired DeLorean time machine to envision a future where energy generation is as clean as possible, deep efficiency and renewables are widely valued, and communities across the country are harnessing their own power to reach (and maybe even surpass) their carbon reduction goals. In this future-looking view, Marty McFly and Doc Brown see a country where most, if not all, energy comes from non-fossil fuel generation.
This hi-tech world, however, isn't too far off in the future. Many jurisdictions in the country – including several states within the northeast – have adopted aggressive greenhouse gas (GHG) emission reduction goals. Several are already making good progress in meeting those goals. In fact, in the six New England states, emissions from energy use in 2015 were 19 percent less than in 2001. These states are committed to mitigating the impacts of climate change.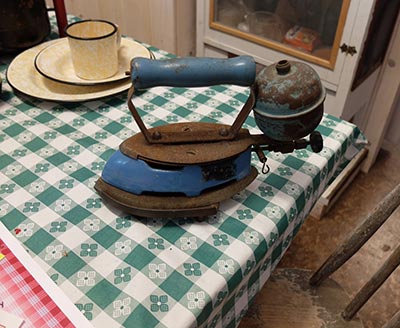 However, in order to reach reductions to the tune of 80 percent below 2001 levels deep decarbonization is necessary. The traditional methods of increased energy efficiency and decarbonized electric grid aren't enough. We need to integrate a third strategy – powering key end uses with low-carbon electricity instead of fossil fuels.
This is an area of great opportunity. A small number of end uses in buildings, industry and transportation sectors account for 85 percent of direct fossil fuel use in New York and New England. If we identify and focus on those end uses, we can carefully plan and make informed decisions about how and when to move them to electricity. Enter strategic electrification.
What Does Strategic Electrification Mean?
Strategic electrification, or smart electrification as it is sometimes called, is defined by Northeast Energy Efficiency Partnerships (NEEP) as powering end uses with electricity instead of fossil fuels in a way that increases energy efficiency and reduces pollution, while lowering costs to customers and society, as part of an integrated approach to deep decarbonization.
Put this way, strategic electrification sounds like a nebulous concept. It feels as if it is a few steps away from an action plan. Simply put, though, strategic electrification is an energy makeover. It's a shift in the way we think about energy. How do we currently use energy and how can we be more efficient and effective in that use? How can we produce and use energy to create a healthier, more comfortable environment, a planet more resilient to climate change and a more stable grid?
The Pathway to Deep Decarbonization
Although strategic electrification is our best pathway to deep decarbonization, this pathway isn't free and clear. In order to harness the full power of strategic electrification, we must first cultivate both electricity-based technologies, with the potential to meet diverse customer needs and demands, and the markets that support them. The barriers to this growth come in several forms: economic, technical or infrastructural, social or institutional, and policy or regulatory. They are challenging but not insurmountable.
A Look at Electrification Opportunities
In the midst of these market barriers that challenge the widespread use of electrification technologies, there is great opportunity. Specifically, a small number of end uses - space and water heating - account for a large fraction of direct fossil fuel use, creating a situation ripe with opportunity. Let's take a look at some of them: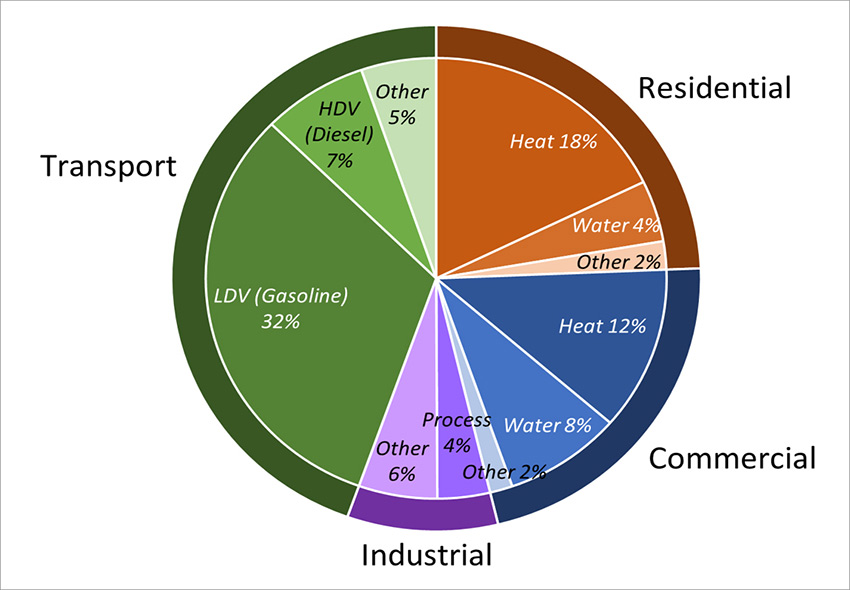 Buildings
Based on state assumptions, energy consumption in buildings for thermal energy and HVAC applications across the Northeast region account for roughly one third of all energy consumption and energy-related GHG emissions. This region is highly dependent on fossil fuels for space heating applications, both residential and commercial. A targeted strategic electrification focus in buildings is the displacement and replacement of fossil fuel equipment used for space heating/cooling and hot water with heat pump technologies that operate at significantly higher efficiencies. Reducing space heating load through efficiency, including deep energy retrofits in existing buildings and construction of zero energy homes, is a complementary strategy to strategic electrification in buildings. Electrification challenges are minimized when loads are minimized.
Promising technologies that fit this bill come in a few forms. Air-source heat pumps, including mini-split, centrally-ducted and those that perform in cold climates, are the dominant technology in the residential space heating application. Ground-source systems also have a role to play, especially in new construction. For commercial buildings, air-source heat pumps, ground-source systems and variant refrigerant flow offer great opportunity. Lastly, heat pump water heaters are a great electrification option for water heating.
Industry
The industrial sector is diverse in its range of business models, technologies and direct uses of fossil fuels. Regardless of nuances in these diverse businesses, the two dominant forms of industrial fuel usage are process heating and steam generation. These end uses account for 86 percent of the industrial consumption of fossil fuels nationally. Conversion of just one-fifth of the fuel used for heat and steam to electricity would be equivalent to electrifying the entirety of every other industrial use of fossil fuel.
Transportation
The transportation sector is just as diverse as the industry sector. Over 90 percent of fuel used in transportation is petroleum-based, leading the sector to generate 27 percent of greenhouse gas emissions nationwide. Electrification of motor vehicle-based transportation is the most impactful opportunity for strategic electrification in transportation. Replacement of conventional internal combustion engines with electric engines and wide adoption of those electric vehicles is the primary method of electrification in the transportation sector.
There has been rapid EV deployment among states in our region, and we expect continued progress. In order to facilitate this, however, a build-out of charging infrastructure will be necessary. Similarly, switching to an electrified rail is a big opportunity for medium and heavy duty vehicles.
Supporting Opportunity Though Policy
It's no secret that regulators in a handful of states across the country are rethinking the business model that currently informs most electric utilities. Bringing the grid into the 21st century without dramatically impacting customer rates is on everyone's mind. Strategic electrification can assist in this re-evaluation by giving us a way to address the opportunities listed above.
The Northeast region is a leader in policies and programs related to strategic electrification. Executive leadership is moving forward on the path toward smarter use of electricity. Here are some highlights:
Vermont integrated strategic electrification into its state energy plan, added a category of savings for "energy transformation projects" and offered ways to finance air-source heat pumps, heat pump water heaters and electric vehicle charging stations
New York provided a policy framework for renewable heating and cooling, offered many rebate and incentive programs for high performance residential and commercial electric technologies and is implementing a time-of-use rate for electric vehicle charging. Under the Reforming the Energy Vision (REV), New York is looking to set a social cost of carbon.
Massachusetts is in the process of finalizing an Alternative Portfolio Standard to integrate heat pumps and other renewable energy options, offers robust rebates for electric technologies, and is expanding the Solarize Mass program to include heat pumps, electric vehicles and storage.
Rhode Island set a lofty goal of achieving zero-emission passenger and freight rail fleet by 2050, released a Renewable Thermal Market Development Strategy and is exploring workforce engagement and development programs to drive heat pump uptake.
Turning Opportunity Into Action
The opportunities listed above are not without many challenges and barriers. But if we look at the policy frameworks being discussed and implemented, we see that forward-thinking states are willing to upend the current energy efficiency paradigm which has traditionally focused on reducing electricity use. Instead, by focusing on increasing efficiency, reducing pollution and minimizing impact to consumers, policymakers can allow current energy efficiency program paradigms to shift toward the inclusion of strategic electrification. This will produce greater benefits to grid stability, climate mitigation and creation of a healthier environment.
States in the Northeast are already taking actions for continued deployment of renewables like offshore wind and solar to address the supply side and encourage electrification. Diverse stakeholders are actively engaged in exploring different aspects of this transformation. Northeast Energy Efficiency Partnerships is bringing those stakeholders together to create a more complete picture of the challenges, opportunities and market potential for widespread strategic electrification.
This process of market development, policy reform, data, testing and analysis will help push us to a fundamental change in how energy is used. The iterative process will lead us, one step at a time, to a clean energy future we can be proud of.
To learn more about Northeast Energy Efficiency Partnership's Northeastern Regional Assessment of Strategic Electrification, visit http://neep.org/reports/strategic-electrification-assessment.