By David Lis | Mon, February 17, 14
Hint: efficiency standards! 2014 is shaping up to be an active year at the Department of Energy (DOE) when it comes to federal appliance efficiency standards.  According to their own
agenda
, DOE plans to conduct rule-making activity to develop new or revise existing efficiency standards for over a dozen products "covered" by the Department. Adding to the urgency at the Department is President Obama's plan to achieve significant emission reductions from federal appliance standards. The President's
Climate plan
, which was unveiled last summer, includes a big role for appliance efficiency standards. The plan looks to achieve a reduction of three billion metric tons of CO
2
through standards by the end of his second term. The
U.S. Energy Information Agency
(EIA) has projected that additional appliance efficiency standards could push national energy consumption down by six percent (see below graphic).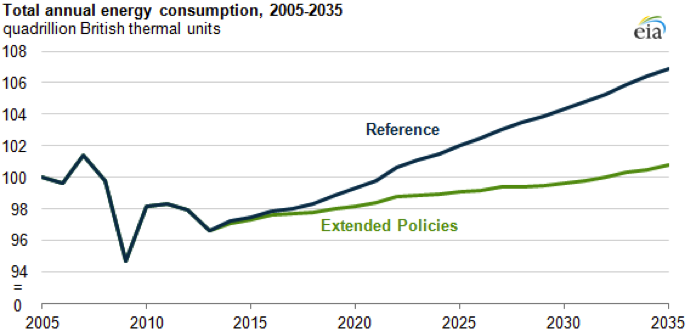 Source: U.S. EIA, Annual Energy Outlook 2012
The Northeast Appliance Standards working group
, facilitated by NEEP, offers regional stakeholders an opportunity to both track and engage a number of the important rule-makings that will affect residential, commercial and Industrial energy use in our region and across the country for years to come. Based on a number of factors including potential energy savings, relationship to historic efficiency program activity, regional climate factors, etc., the working group selects a handful of priority product categories on which the group will most actively engage. For 2014, following is the expected activity we are awaiting from DOE, and the approximate timeframe, if known:
General service lamps - Framework Document
General service fluorescent lamps/incandescent lamps - Notice of Proposed Rulemaking (NOPR), February
Residential boilers -NOPR, July
Gas furnaces -NOPR, one year following settlement
Residential water heaters - Framework Document
Other important product categories which we are monitoring, with expected activity timeframe:
Dehumidifiers - Preliminary Technical Support Document , January
Commercial clothes washers – NOPR, March
HID lamps NOPR - July
C&I fans and blowers PTSD - August
C&I pumps PTSD- August
Stakeholders across the region have concrete roles to play to ensure DOE finalizes strong levels for these product categories. Whether it's engaging directly with DOE during their rule-makings (e.g. providing important market data to the department) or advocating for strong levels through regional engagement, we urge interested parties to keep up to date on these important energy saving opportunities. While these standards are set at a national level, their impacts are felt across every state in every region and will have lasting effects on the nation's energy consumption.  Stay tuned for more information.