By John Balfe | Wed, July 13, 16
In the past four years, have states in the Northeast and Mid-Atlantic region become more supportive of zerio energy policies and construction? What have those states done since NEEP first released it's Roadmap to Zero Net Energy Public Buildings report?
To answer these questions, NEEP recently released the Roadmap to Zero Energy Public Buildings: Progress Report (The Progress Report).
Back in 2012, NEEP released its first report on zero energy buildings, entitled the Roadmap to Zero Net Energy Public Buildings (The Original Roadmap) and much has changed since The Original Report was published. Most notably, the nomenclature has been simplified from "Zero Net Energy" to "Zero Energy." Going forward, NEEP decided to adopt the US DOE's definition in an attempt to make the term more easily understood for those outside of the buildings sciences realm.
The Progress Report serves as a standalone document that analyzes how states in the Northeast and Mid-Atlantic have made advancements in zero energy policies and construction during the four years since the publication of The Original Roadmap. To understand this progression, NEEP assessed each state (and DC) against the "Critical Next Steps" as outlined in The Original Roadmap. Illustrated graphically in a "State Report Card," the report offers policy makers and other interested stakeholders a quick snapshot of how their state stands in regard to the rest of the region. Following the State Report Card are in-depth examinations of each state's progress towards Zero Energy Buildings (ZEBs), including information on enacted policies, resources and more that drive the development of ZEBs.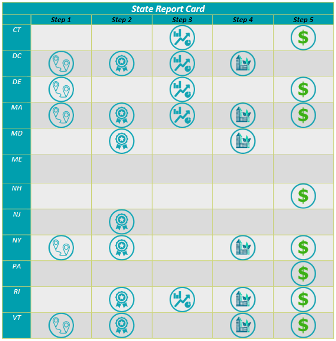 The Report Card shows that DC, Massachusetts, New York, Rhode Island and Vermont are leading the way towards NEEP's overall goal of Zero Energy Buildings.
In addition to analyzing each state, The Progress Report also contains new guidance and recommendations on topics such as energy codes, asset rating tools, funding mechanisms, utility regulation, and resiliency. Building asset rating tools, for instance, have been continually improved to make them easier and less costly to use. The report also contains information from outside the NEEP region to highlight significant initiatives related to ZEBs in progressive states such as Washington and California.
Overall, The Progress Report demonstrates that regional awareness of zero energy standards, definitions, policies, initiatives and actual construction has advanced since The Original Roadmap was released. In order for the region to fully embrace ZEBs, state and local governments need to continue to lead by example. Further development of ZEBs will allow states to reduce energy costs, meet climate change goals and move towards a clean energy future.