By neepenergy | Fri, September 21, 12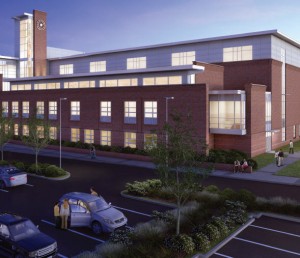 Wellesley High School. Photo: SMMA
Roll up those sleeves and join the
Green Schools Committee
of USGBC MA for one (or three!)
Green Apple Service projects
over the next two weeks. Tour a newly built high performance MA-CHPS school or join us at Boston Latin Academy for some
green rejuvenation
! Help our communities support
healthy, sustainable schools
by participating in these free events.
Spread the word to your friends, kids, family and colleagues!
1. Wellesley High School Tour
,
Thursday, 9/27/12, / Wellesley, MA 5-6:30pm
– Register
here
!
A high performance school that demonstrates how a community came together to build a cost effective green school. Features include:  designed to MA-CHPS to be 30% more energy efficient than code; 30% greater water efficiency, 78% daylighting, photovoltaic and geothermal systems, and more.  Tour  conducted by Suzy Littlefield from the Wellesley High School Building &  Sustainable Energy Committees and a representative from Symmes Maini & McKee Associates, the project design firm.
2. Wellington Elementary School Tour
,
Saturday, 9/29/12, 10-12pm
/ Belmont, MA – Register
here
!
A high performance school specifically designed for elementary age students. Its architecture blends in with neighboring houses, with a similar scale, mix of wood and brick. Energy savings and green features include: designed to MA-CHPS; geo-thermal wells to reduce heating and cooling costs and a roof designed for installation of solar panels and portions for green roof. Tour conducted by Jonathan Levi Architects and members of the facilities staff and school committee.
3. Boston Latin Academy Green Rejuvenation,
Thursday, 10/4/12, 2-4pm
/ Dorchester, MA – Register
here
!
Work alongside students, teachers, USGBC volunteers and community partners to help rejuvenate the outdoor learning spaces at one of Boston's largest high schools. Teams will be working together to improve the student greenhouse, install a rain barrel, plant shrubs for the outdoor courtyard, landscape the front of the school and build several vegetable garden beds. 
 See you there!