By Derek Koundakjian | Tue, November 23, 21
For two days in October, over 350 stakeholders from around the country and Canada gathered to discuss adoption strategies for and non-energy benefits of heat pumps in NEEP's virtual Heating Electrification Workshop. Like last year's workshop, the event was virtual due to the lingering effects of the pandemic. This year's workshop featured a more diverse set of session topics, ranging from equity considerations in heating electrification to emerging heat pump solutions for the toughest heating challenges, and included SoundBites, or Ted Talk-style informative talks covering a particular project or issue. Over the two days, participants discussed cutting-edge topics, attendees beamed in their questions and comments, and moderators and panelists facilitated interactive discussions.
A Workshop Evolving
Compared to past workshops, this year's workshop most notably featured discussions on a variety of approaches. A review of the agenda shows that accelerating the adoption of air source heat pumps isn't just about occupant comfort and savings anymore. Well, it is about occupant comfort and savings, but it's also about equity, electrification, public policy, innovation, and much more. Because of heating electrification's many benefits – whether that be for developing the workforce, meeting state or regional clean energy goals, or just advancing towards the next generation of quality heating and cooling technology – energy efficiency stakeholders have a vested interest in exploring and capitalizing a heat pump future.
For those who missed the workshop, here are a few key session takeaways:
Session One: Considering Equity in Heating Electrification
There was evidence that traction is been made in approaching heat pump adoption as an equity imperative, meaning that the benefits of heating electrification must be passed on to underserved communities. These communities are also suffering the most disproportionately from climate change and air pollution while contributing the least to the activities driving those issues. The panelists in this session explored innovative ways to address this.
Lisa Dobbs of the Massachusetts Clean Energy Center, discussed the Empower Program, which assists community-based organizations (CBOs) build capacity and launch early initiatives with state seed funding. Nikki Joseph of the NYC Mayor's Office of Climate and Sustainability highlighted some offerings of ElectrifyNYC, which centers heat pumps to bring non-energy and economic benefits to distressed communities. ElectrifyNYC provides an excellent model of diverse partner organizations coming together to tackle climate change challenges with innovation, creativity, and inclusivity. Donnel Baird of BlocPower shared his company's model that promotes equity by leasing equipment to low- and moderate-income homeowners. BlocPower recently pledged to help Ithaca, NY decarbonize all 6,000 buildings. These approaches decarbonize our buildings in a way that equitably distributes benefits to ensure historically marginalized communities are at the center.
Session Two: Policy Pathways to Heat Pump Adoption
Building decarbonization is a necessary piece of the puzzle to achieve a cleaner, less carbon-intensive future, and heat pumps are a proven approach to reduce significant greenhouse gas emissions without requiring building construction (new) or reconstruction (rehabs). Therefore, states have a vested interested in unlocking the potential of heat pumps by setting policies that leverage their impact on the residential and commercial building stock. Session two looked at some of the ways states around the Northeast are doing that, either at the regulatory level or at the program administration level.
Keith Levenson of the Vermont Department of Public Service, discussed a specific tier of the Vermont renewable energy standard that was developed to focus specifically on decarbonization, as opposed to just energy efficiency. This tier, at the policy level, challenges utilities to push cost-effective heat pump options on a larger scale to reduce fossil fuel consumption. Will Xia of Con Edison, discussed New York City clean energy goals through program implementation, taking into consideration customer and building characteristics and offering solutions that meet the needs of those differing characteristics. By tailoring incentives for equipment and services to the design requirements of a building, his program increases confidence in heat pumps by rejecting the one size fits all approach.
Session Three: Heat Pumps as Secondary or Primary Systems
This session explored approaches (partial vs. full replacement) to maximize adoption of heat pumps while guaranteeing the best savings and comfort conditions for building owners. A recurring theme was meeting building owners where they're at (or not pushing an option that isn't right for the consumer). Steve Pantano of CLASP, began by noting that it's important to consider not everyone will fully replace their heating system with a heat pump, especially in existing buildings. Monica Neukomm of the U.S. Department of Energy, reiterated that sentiment and made an important point that the industry must consider more approaches that partially displace heating load in a building but still leverage the existing heating system to guarantee comfort in the winter. This approach, as CLASP reports in its 3H Hybrid Heat Homes study, gets consumers on the path to electrification. Christie Amero of the Cadmus Group, delivered some results of its whole-home heat pump study (or heat pumps that are serving at least 95 percent of a home's heating load) and noted customer concerns around whole-home heating like fear of power outages in inclement weather conditions. At the end of the day, homeowner comfort level with the technology and how they operate it will determine the best application for a given building.
Session Four: Emerging Heat Pump Solutions for the Toughest Challenges
The final session looked at capabilities of emerging residential and commercial heat pump systems. The solutions discussed in the panel largely layer onto existing heat pump technology. As Ari Greenberg of BR+A mentioned, most people think of a mini-split that leverages air-to-air heat exchange when they think of a heat pump. However, there is also air-to-water, water-to-air, and water-to-water heat pump technology. These additional, more complex approaches are often best suited for complex (typically commercial) buildings that require zone by zone heat or water control, and require innovative thinking and design – especially for retrofits. Steve Nadel from ACEEE noted that many of the same principles apply no matter the type of heat pump, and emphasized the significance of weatherization and proper ventilation in almost all scenarios to reduce heat loss, maintain indoor air quality, and keep the circulation of heat in a building as efficient as possible.
Looking Forward to Next Year
Following a vibrant two-day workshop with a diverse set of panelists and session topics, it's clear we are living in an exciting time for heat pumps, and the next several years are poised to see progress in the equity, political, and technological spaces of this technology. As regulatory barriers come down for more ratepayer-funded programs to focus on helping customers in a more equitable manner while also guaranteeing quality and savings, adoption of heat pump technology is only going to increase. Even despite the pandemic's impacts on the heat pump supply chain, consumer demand and policy champions are largely moving the market towards the next generation of clean heating and cooling technology. Sales of ducted and ductless heat pumps in the Northeast have been growing approximately 20 percent per year over the last five years, and the growing popularity is a reassuring sign that this trend will continue. It goes without saying we look forward to revisiting how the market has evolved in next year's workshop.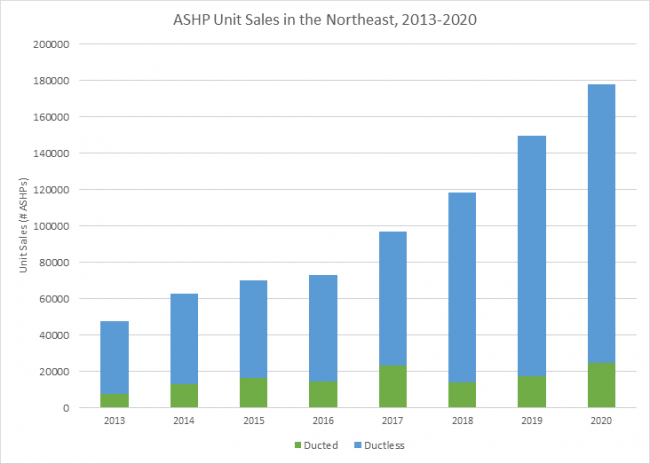 The Heating Electrification Future
Reflecting on the workshop, the picture of an electrified future is becoming clearer. An electrified future looks something like entire cities signing on to decarbonize their building stock using the power of clean, electric-powered appliances and other devices. It looks like buildings connected to the grid to reduce demand at peak times and keep electricity rates affordable. It contains program goals to decarbonize buildings and leverage policy mechanisms to accomplish those goals. It offers workers from traditionally carbon-intensive or low-tech professions the ability to leave those careers for the clean energy industry through workforce development opportunities and state-sponsored training programs. It emphasizes that there is a heat pump solution for every building, and new applications of technologies are developed to ensure savings and comfort can be achieved for all building occupants. And it also looks like customers well on the path to electrification (through a partial replacement of their heating system) taking steps to retrofit the rest of their home with other electrified components like electric vehicles, battery storage, and renewable electricity generation. There are affordable and healthy energy efficiency solutions for everyone; there is a place for everyone in the clean energy future.