By Carolyn Sarno | Mon, December 12, 16
Working in the field of energy efficiency, there are days when it's hard to see or feel the exact impact of our work. Last week was different, though. It was a great reminder that the work we do matters and that we are making a big impact, especially in learning environments.
Last week I had the opportunity to tour the Discovery Elementary School, a Zero Energy school located in Arlington, Virginia. The tour was led by both the architect and by four students and the principal. The students and principal, especially, were eager to tell us why they loved their school –LED lighting, solar panels, learning nooks, the recycling program which includes food waste (they weigh the food they are throwing away), and an indoor slide. Though I didn't try the slide, I was tempted. It was evident that they are all proud of their school and love learning there. I heard several tour attendees remark "I wish my kids could go to a school like this."
Hopefully they can soon.
Accelerating To Zero (Energy)
The tour was part of a kick-off to the U.S. Department of Energy Better Buildings Zero Energy Schools Accelerator. NEEP – along with national partners NASEO and NBI – and local and state school districts from across the country have signed up to be part of this important accelerator. Together, we will be working to create a framework for states and school districts to create zero energy buildings.
The NEEP region already has a tremendous start on the path towards zero with several high performance schools – those that are built to be efficient with both energy and resources. Our region even has a few Zero Energy Ready Schools, like the East Bay Met in Rhode Island.
Achieving zero, though, still remains a lofty goal. It doesn't need to be.
At the kick-off, we were reminded over and over that we are not just building schools for today but for future generations. With that in mind, we have to do better. Every student and teacher should have the opportunity to learn and teach in schools that comfortable, healthy and resource-efficient. We look forward, to working with the stakeholders in our region as we continue to create the path forward for zero energy schools.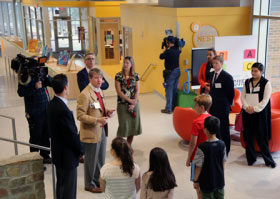 Want to see the Discovery Elementary School for yourself? Check out some behind-the-scenes photos on NEEP's Facebook page.

The Better Buildings Zero Energy Schools Accelerator kick-off was covered by two local television stations. Check out some cool video here and here.

Resources to Assist Your Path to Zero Energy Schools
Northeast Collaborative for High Performance Schools (NE-CHPS) Criteria: This criteria, which was originally developed in California and subsequently adapted to fit the building codes, climate, and educational priorities of the Northeast, is a prescriptive roadmap for sustainable school design. It contains categories including integrated planning, energy efficiency (Zero Energy), indoor environmental quality, site selection, and materials management
Operations and Maintenance Guide for Schools and Public Buildings: This Regional Operations & Maintenance Guide is intended to provide guidance to state and local jurisdictions to ensure the continued performance of new buildings that are built to green building standards, as well as put existing buildings—regardless of age—on the pathway to becoming energy-saving high performance facilities.