By Kai Palmer-Dunning | Tue, April 23, 19
In many states around the country, the increased stringency of building energy codes is the only way to ensure that building energy is reduced over time. However, international building energy codes are only updated periodically and sometimes take years to be adopted at the state level. This often results in building energy reduction falling behind state carbon reduction goals. With buildings having one of the largest impacts on energy consumption, electricity usage, and GHG emissions, innovative solutions must be explored in order to fill the gap between code cycles.
For communities, local zoning is the way for neighborhoods to maintain their authenticity, comfort, and convenience both residentially and commercially. However, zoning can also be used to achieve local sustainability goals. "Green zoning" as it has come to be called, gives communities the ability to craft local zoning ordinances that emphasize investment in better, more energy efficient buildings. In a Harvard Kennedy School report about green zoning, a "density bonus" is analyzed as an effective strategy. A density bonus gives developers the incentive to exceed the normally allowed floor-to-area ratio (FAR). In short, they can develop projects that are taller and more densely packed with residential units in exchange for complying with energy efficient building standards like LEED. Many developers want to build at higher densities to maximize profits. In order to ensure there is also community benefit, requiring that projects be built to LEED standards and also be located near public transportation will not only reduce building energy but GHG emissions from transportation as well. Vehicle miles traveled (VMT) are directly impacted by people's proximity to transit in order to access amenities and commuting options. In Acton, MA a density bonus is offered for projects in its East Acton Village District if those projects meet LEED standards for new construction and major renovation (Acton Zoning Bylaws 5.5B.2.2, Section d). In Arlington County, VA there is an increased density bonus for projects that achieve LEED Silver, Gold, and Platinum.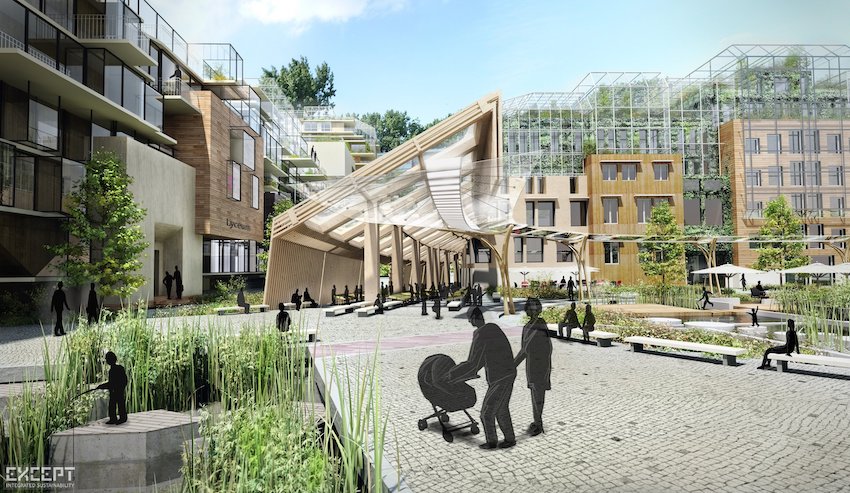 However, some communities have gone a step further with green zoning and done a complete overhaul of their zoning ordinance to include green zoning as a central framework for the code. In Buffalo, NY, the mayor signed into law a new zoning code called the Green Code: Unified Development Ordinance in 2017. Its goal is to promote walkability, density, and mixed use design through a framework that places sustainability and affordability as central tenets to the code. Affordability is key to any green zoning ordinance because the same density incentives used to build sustainably can be leveraged for increased affordability as well. For many smaller communities that are interested in green zoning, displacement of residents is a risk that must be considered. Incentives that allow for higher density in exchange for sustainability also must include affordability provisions to ensure access for all residents.

Somerville, MA is another example of a smaller community that is currently going through the process of a zoning overhaul to address its evolving urban landscape as well as its zero energy goals. In conjunction with the zoning overhaul, the city also published its climate plan called Somerville Climate Forward in 2018. The plan comprehensively addresses the risks of climate change to the local community and outlines how it plans to achieve GHG reduction, resiliency, and sustainability for Somerville. These goals are specifically reflected in Article 10 of the proposed zoning ordinance. Within the article, there is a section called "Sustainable Development" that addresses LEED requirements for new construction, heat island reduction, green roofs, storm water management, and environmental performance. The article also proposes the use of a performance-based environmental standard called a "green score". The green score is calculated by weighted landscape measures that improve urban air quality, reduce heat island effect and storm water runoff, and improve resident health and wellbeing.
Across the country there are many other examples of communities getting into the zone – the green zone that is. Leveraging local stakeholders willing to address and support energy reduction goals, these communities are turning to green zoning. Building energy codes may be key in helping reduce our national building energy footprint, but communities and their efforts ultimately make that reduction possible. Green zoning is an essential tool for achieving these goals. It addresses the local context and specific community needs that building energy codes may not be able to address.