By Samantha Bresler | Thu, December 19, 13
I get it.  No really, I do.  You're an environmentalist – well, so am I. You wanted to lessen your carbon footprint just like the rest of us – and I applaud that. So in a desperate attempt to decrease the environmental burden of doing laundry, you decided to hang your clothes out to dry. But this isn't
Little House on the Prairie
! This is an urban area and countless people just got a free look at your unmentionables. That guy down the street? Yeah, he saw them.  The old lady on your block almost tumbled over when she saw those, "new-fangled undergarments" of yours. Even now, small children are buckling over in peals of laughter at your expense.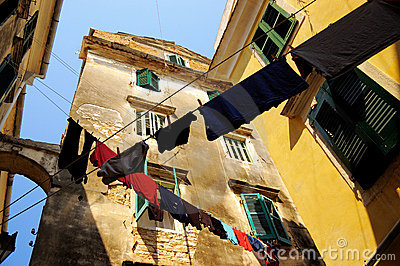 There is no need to continue this public shaming.  You can keep your laundry and privacy clean without damage to the environment.  Let me show you how NEEP and our partners can help. This year, NEEP joined forces with the Super Efficient Dryers Initiative (SEDI), who plans to introduce advanced clothes dryers into the North American market. NEEP and SEDI are especially interested in the prospect of heat pump clothes dryers, which are currently picking up speed in European markets. For years there have been
reports
,
articles
, and
editorials
raving about the benefits of heat pump technology in clothes dryers. Even SEDI launched a 
study that confirmed
European clothes dryers, with heat pump technology, are 50-60% more energy efficient than the conventional electric dryers used in North America. But these findings taunted eco-conscience Americans who wanted nothing more than to clean their laundry. To this day, there are no heat pump clothes dryers to be found in North American markets. Although there are still monumental efficiencies to be gained, a major technological improvement was made in 2013.  This year, Samsung Electronics became the first manufacturer to receive EPA's
Energy Star Emerging Technology Award in Advanced Dryers
for its DV457 model, which uses
25
% less energy than conventional models.  These advances made by Samsung are staggering once you realize that the dryer does not use heat pump technology!  Imagine how much more efficient the American dryers can become, and the number of superior choices we'll have. Now that there is finally an efficient dryer option in the market, efficiency programs are standing at the ready with rebates. 
NEEP Clothes Dryer Snapshot
provides a great view of program activity throughout the region.  As this trend of efficient dryers enters the American market, a new
DOE test procedure
and
pending ENERGY STAR specification
will be prepared.  NEEP and SEDI are ready for this opportunity to save energy, and so should you. So, there is no need to continue feeling guilty about drying your laundry. The energy, water, and carbon pollution from a standard load of laundry doesn't have to be the status quo. Do us all a favor; learn about your efficient clothes dryer options; reconsider your clothes drying technique and please, put your underwear away.