By David Lis | Wed, January 18, 17
Are you looking for something to warm your bones in the middle of another chilly winter season? I've got just the thing for you - cold climate air-source heat pumps (ASHPs)!
Thanks to collaborative contributions from stakeholders across the Northeast and Mid-Atlantic, a newly-published NEEP report titled Northeast/Mid-Atlantic Air-Source Heat Pumps Market Strategies Report 2016 Update presents some new information about this ever-changing technology. Our report offers a series of recommended market strategies to overcome key market barriers as well as how to leverage market opportunities to accelerate the regional market adoption of ASHPs. Hot off the presses, this report projects that successful implementation of the recommended regional strategies could achieve a 40% market penetration of ASHPs by 2030.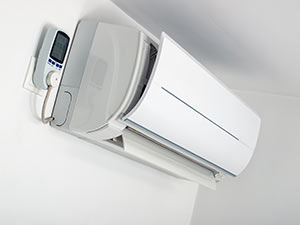 For good reason, ASHPs have long been considered an HVAC technology better suited for warm and moderate climates. Instead of creating energy through combustion, ASHPs transfer energy from outdoor air. It makes sense, then, that the warmer the outdoor air temperature, the more heat can be "moved" inside to the conditioned space. Lower heating loads in moderate climates also require smaller capacity heating systems, small enough that "old" ASHPs were capable of maintaining comfort. Despite all of that, ASHPs have long suffered from low heating capacities and efficiencies when the temperature dipped below freezing. This characteristic has made using ASHPs in colder climates like New England and parts of the Mid-Atlantic challenging.
Good news is here.
Important technological improvements have greatly improved the amount of delivered heat and efficiencies for many of today's ASHP systems, making them a viable alternative to new cold climate regions and the traditional heating systems in these regions, including electric resistance heat, and oil/propane boilers and furnaces. 
With higher levels of performance and an increasing variety of system configuration, ASHPs are primed to see growth in both retrofit applications as well as new construction. ASHPs now come in both "ducted" and "ductless" versions, meaning they can be retrofitted into nearly any existing or new application. Cold climate ASHPs can provide seasonal efficiencies of over 300%, meaning the system delivers three times the energy of the input energy. Put in one unit, get out three!  Now that's efficiency. 
In fact, ASHPs are increasingly being referred to as a renewable technology, due to their ability to extract energy from the ambient air. Not only do heat pumps provide efficient heating, but they provide highly efficient cooling which increase their versatility and usefulness. Energy savings means cost savings, whether we're talking about heating mode or cooling mode. 
Lastly, ASHPs provide the "cleanest" space heating on the market, an increasingly important issue for states around the region looking to find pathways to reduced harmful emissions. It's clear that ASHPs offer several compelling solutions – comfort, cost, energy, and emissions.
With such an impressive value proposition, why aren't these everywhere?
From low consumer awareness/confidence to inadequate performance ratings to unanswered high level policy questions, several key market barriers persist. Fortunately, the report offers seven key strategies categories, each with specific tactical activities. Take a look:
| | |
| --- | --- |
| | 1. Increase consumer education and awareness |
| | 2. Increase installer/builder awareness of, and confidence in, ASHP through expanded training and education |
| | 3. Reduce upfront costs of installed systems through robust and aligned promotional programs and the support of alternative business models |
| | 4. Mobilize state and local policymakers to expand support for ASHPs |
| | 5. Promote advanced control technologies to allow automated coordination among multiple heating systems |
| | 6. Enable the promotion of climate-appropriate ASHPs through improved performance metrics |
| | 7. Develop more accurate tools to predict energy, cost and GHG savings associated with ASHP installation through collection and analysis of real world performance data |
High performing cold-climate ASHPs now provide a number of potential benefits in comparison to a number of existing residential heating systems. It's important that we address the barriers to market adoption so that we're able to reap the benefits of this improved technology. NEEP projects that if the region successfully achieved a 40% penetration rate by 2030 we could expect $4 billion in annual cost savings as well as 50 billion metric tons of CO2 equivalent. That amounts to the emissions of six and half coal fired power plants!
We invite stakeholders to review the strategies and join the regional effort to implement them. Since markets such as cold climate ASHPs operate at a regional and national scale, it is important that implementation of the strategies be coordinated. To help make this ambitious goal a reality, join NEEP's regional initiative and contribute to this exciting transformation. Learn more on our public webinar February 6, 3:00-4:00 p.m.